When you get a nano marine tank, you get to have a small part of the ocean right in your home or workspace. It can take a lot of time, money, and effort to maintain a huge reef system—that's why many aquarists find it much easier to invest in a small aquarium.
Nano reef tanks typically have between 5 gallons and 20 gallons of water capacity. You have to choose your organics carefully, as small polyps and coral interact in varying ways. Fortunately, many aquarium kits come with everything you need to get started, making set-setup a breeze.
Maintaining nano reef tanks is a fascinating hobby, and they also make excellent gifts for that special person in your life. However, if you've researched this investment at all, you already know there are a lot of nano reef tanks available, which can make the tank selection process a challenge.
Today, we'll take a look at the hardware and operation of the most popular nano reef tank brands on the market to find the best nano reef tank in 2023. Let's dive in!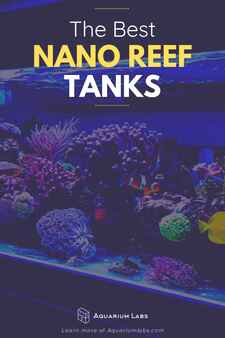 Best Nano Reef Tank Reviews
1. Coralife LED Biocube Aquarium LED – Largest Nano Reef Tank
The size of the Coralife LED Biocube nano reef tank is a great middle-ground option and is the best nano reef tank cube for hobbyists. You can get this nano reef tank with a 16 or 32-gallon capacity.
The LED Biocube aquarium is made of sturdy glass and features a sleek design that blends well with a range of home décor styles. The hood of this aquarium is hinge-style so that you can have easy access for feeding and tank cleaning through the cover. It has a quiet return pump with sufficient strength.
The Coralife fish tank LED lights are the real draw for this nano saltwater tank, though. Coralife Biocube LEDs change and alternate between color channels operating on a 24-hour timer.
The LEDs are set to automatically mimic the lighting of a natural sunrise and sunset for 30 minutes, and moonrise and moonset lighting for 60 minutes. Thanks to the LEDs, you can see your marine nano tank from all sides.
You can learn more about in our Coralife Biocube review article.
Pros
Filtration media has customizable purification cycles
Designed to provide plenty of space for saltwater use
Beautiful LED lighting mimics sunlight spectrum
Multi-channel dimming capabilities
Cons
Small fish may be swept into the filter pump
Tank edges are prone to leaks
2. Fluval 10531A1 SEA EVO XII Aquarium Kit – Best Marine Nano Reef Tank
True to its name, the Fluval 10531A1 Aquarium Sea Evo xii Kit holds 13.5 gallons. It comes with a filtration system that operates on three levels: mechanical, chemical, and biological.
The Fluval 10531A1 reef tank model is made of glass with an aluminum casing. The honeycomb design hides the back-filtration areas so that it looks stylish from any side and monitoring the water level is easy. Additionally, the 14000k LED canopy on the tank has a feed door, so you won't struggle when it comes to feeding your fish.
This option is a complete nano aquarium kit—Fluval Sea reef tanks come with an LED system display to support coral reef growth, a low-voltage transformer, and a circulation pump. You can change the lighting brightness and intensity to mimic daytime or nighttime. Your coral will benefit and form natural colonies.
Pros
This model series fits easily on top of a cabinet or desktop
Great water circulation for coral
14000k LED fixture with warranty
Best for saltwater use but suitable for freshwater use
Cons
Debris can get trapped in the back unit
Not much space in sumps for tubing
3. Hagen HG Fluval Flex Aquarium – Best Freshwater Nano Reef Tank
With durable glass construction, the Hagen HG salt or freshwater nano reef tank set has 7500K LED lights and a multistage filtration process. This innovative marine option can provide a means to control nitrates, magnesium, and bacteria.
The world-class lights support the growth of your plants, while the filtration system keeps the environment healthy. This tank comes with a remote control allowing you to choose from a list of different color effects.
The bottom of the tank is designed to hide the filtration system from view, and the cover is made of sturdy material. This aquarium also has a curved front, which makes it seem bigger than it is. The base, plumbing, and performance are top tier.
You can feed your pets easily through the section in the top cover, too. We're also big fans of the 132 GPH dual outputs to customize the water flow and filtration systems.
Pros
15 different light colors
Plenty of room to add heaters or a bubbler
Easy for beginners
Quiet water pump and air conditioning
Honeycomb design works on any shelf
Cons
In some cases, small critters can get trapped in the filtration area
Lights don't come with a 24-hour timer
4. Fluval 10528A1 Evo V Marine Aquarium Kit – Best Countertop Nano Reef Tank
Many reviewers appreciate that the Evo V model nano reef tank's small size. It holds 5 gallons of water, which makes it the perfect aquascape for any living room or office. It is also an affordable way for beginner nano aquarium enthusiasts to get started.
Like other Fluval aquariums, the Fluval 10528A1 reef tank nano comes with a 3 stage filtration system to improve water quality and clarity. It also has 11000K LEDs, which lend a hand to your coral growth. You can keep saltwater fish in this tank and grow your mini reef with no stress.
The Fluval 10528A1 is a glass type tank with a plastic cover with great visibility from any angle. The top cover allows for easy feeding and maintenance.
The lid is transparent so that the LED light bar above it can shine into the tank. The entire set includes a Fluval 10528A1 foam filter block, an activated carbon filtration insert, and a BioMax insert. This model nano reef tank looks amazing on your desk or in your bedroom.
Pros
Easy setup process
Great for saltwater use
Glass aquarium is perfect in classroom settings
Customizable filtration process
11000k LEDs above cover
Cons
Circulation pumps are not very powerful
Chiller not included
5. MarineLand Contour Glass Aquarium Kit with Rail Light – Best Budget-Friendly Nano Reef Tank
This tiny nano reef tank has a small size and an extremely sleek product design, which means it looks great anywhere. The glass tank canopy and rounded corners make it easy to see your nano reef from multiple angles. It's perfect if you aren't ready to invest too much money into a nano reef yet.
You can get this tank with a 3- or 5-gallon capacity. Just note that the smaller the gallon tank, the smaller the corals and creatures you should put inside of it. Aquatic life needs ample space to thrive just like other animals.
This aquarium model features a hinged LED light located above the sliding glass canopy, offering the ability to access inside quickly and easily.
These nano reef tanks come with an LED lighting system with a white and blue option that mimics natural daylight and moonlight for your reef aquarium on a timer. The kit itself comes with filtration, Bio-Foam rings, and a filter pump with an adjustable flow rate for currents.
Pros
Rounded corners look fantastic in any space or location
Easily add a water heater near the sump
Blue light LEDs make your fish stand out
Great customer service
Cons
The filtration setup may be a hassle after a point
Shrimp can get stuck in the filter side
Brightness issue makes it hard to see dark colored fish in this fish tank
Two Honorable Mention Nano Aquariums
Although they didn't make our top five, these next reef aquariums still deserve your consideration. Made by different manufacturers, these aquarium kits come in different sizes and have lots of product reviews and website posts. Customers can choose nano tanks that have the perfect size gallon aquarium and LEDs for their needs.
The majority of tanks are cuboids, and the nano cube shape works in spaces anywhere. However, a tank version with a different build, such as a rounded edge, could be a fun adjustment. Try an array of styles to get the result you want.
6. Lifegard Aquatics Crystal Aquarium
This aquarium comes in different sizes — 4.14, 9.98, or 24 gallon. The unit is made of glass bonded with silicone edges so that you can see your nano reef from any side.
There is a hidden filter area in the back of this one that comes with a submersible pump, bio balls, sponge filters, carbon media, adjustable return fitting technology, and a bottom insulation pad. The adjustable flow rate increases the water quality and clarity for your specimen.
Pros
Versatile design style and sleek appearance
Nearly invisible glass seams
Glass top reduces evaporation
Can easily add more filtration in the sump with no visible tubes
Submersible pump included
Cons
Back panel stand is see-through
Filtration system can make a good deal of noise
7. Marina LED Aquarium Kit
This aquarium is perfect for young people or beginners. For an affordable amount, anyone can choose from the 5-, 10-, or 20-gallon options. It makes keeping fish easy because it comes with everything a user needs to DIY.
The kit components include quality fish food, Aqua Plus Water Conditioner, a fish net, and an aquarium care guide with pictures. The conditioner makes tap water parameters safe for your fish. The manufacturer also includes Cycle Biological Supplement instructions, so you won't have any issues or questions on how to create a balanced aquarium environment.
If you want help saving energy, this may be the kit for you. One of its benefits is its energy-efficient LEDs, but the lighting is best suited for low-light inhabitants.
Finally, this glass aquarium system comes with a clip-on filter sock. The filter removes pollutants from the water, controls volume, and removes ammonia. The cover has a number of easy-to-replace cartridges. You can order more via links on the brands' website.
Pros
Comes with all basic fish tank supplements and assembly instructions
Spacious sump and chamber
Made of high-quality material
Filter system and LEDs are quiet
Cons
Lid is tricky to use
Nutrients in manufacturer package may not be suitable for all fish
Heavy
Guide: How to Buy the Best Nano Reef Tanks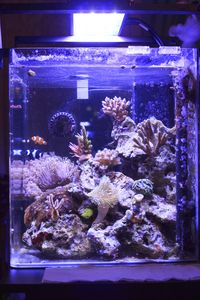 Nano reef tanks take time and thought to set up and maintain—but the tank you start with can matter just as much to your success. 
How do you decide between glass and acrylic? What about light or bulkheads? What stage filtration system do you need? Do you need a 3-stage filtration system? 
There are a lot of aspects to factor into your reef keeping decision.
1) Size
The size, shape, and surface area of your nano reef tank play a major role in your ecosystem. You need to consider the dimensions, foundation, availability, front, and capacity of your tank. A bigger tank will have more flexibility for coral growth.
Filtration system size and heating needs also depend on tank size. A larger tank shape will require a more powerful heater so that your water temperature is regulated. Large tanks also require more water outlets and a bugger sump.
For viewing purposes, tank shape also matters. You want a reef tank with sides that allow you to get the best view of your aquatic system, so get something with a design you love.
2) Accessories
There are plenty of components to nano reef tank kits, and you'll want accessories for the best results. For instance, you'll have to measure your water's chemical balance and heat level, keep the tank clean, feed your creatures, and help your plants grow. Extras can make maintaining tank stability easier.
Depending on your aquarium inhabitants, you need temperature regulation. A thermometer can solve this problem. You may also be someone who benefits from a cabinet stand, a UV sterilizer, and a surface skimmer.
There are all-inclusive aquarium kits that come with everything you need, or you can add the different parts yourself for better customization. Make sure your complete kit doesn't lack any pieces you need. You should also be sure that the accessories you are buying are a quality brand. You don't want to end up spending more on replacement parts.
3) Filtration
Most nano reef aquariums come with a filtration mechanism already built into the tank. When in doubt, look for a system with adequate power to keep your aquarium water clean.
Take our word for it—not all reef tank filtration systems are created equal. You want a multistage system that can handle your tank's water capacity and stock level. Though, if you buy a tank with a lackluster filter, you can always upgrade with an external filtration system to add to supplement it.
The shapes and designs of the front, sides, and corners of your tank help. You have to have somewhere to put the filtration plug, pipes, and return nozzle.
4) Lighting
When you look for a nano reef aquarium, you will see many reef tank lighting system options. The best units come with LED fields in various colors. You may also want a controller with a navigation menu or lighting control app.
Your tank color choices depend on your tank's inhabitants. Certain corals require blue light, so you'll want to find a high color temperature LED add-on. However, you can get by with lower light temperatures for freshwater reef tanks.
The other key aspect of lighting is that it helps you look at your invertebrates. You don't want to work hard on ecosystem designs with no rewards. For the best views, get a tank with multiple channels of light that you can control.
Some tanks also come with cool appearance effects such as daytime and nighttime lighting, cloud cover, or lighting settings. These effects can take your tank from pretty to show-stopping.
Sometimes, you have to use trial and error to find the best nano reef tanks. The right one in your price range will be well worth it when you're done.
How to Set Up a Nano Reef Tank
A nano reef is essentially a mini saltwater aquarium. Though there are benefits, one of the drawbacks is they require time to setup. The equipment can cost quite a bit as well. The information below will help you choose a reef tank that meets your preference in performance, manufacturer, and costs.
There are two types of nano reefs: FOWLR and true reefs. FOWLR means fish only with live rock. These reefs are the simplest way to start. For a more complex reef, you can add corals, anemones, and starfish, among other things. Once you know what kind of aquarium you want, choose a tank type that functions accordingly. Likewise, decide if you want a tank with sides made of glass or acrylic.
What will you need?
The following materials are usually requirements nano reef tanks:
Lighting for your reef
Live sand
Live rock
Power heads
RO/DI water or distilled water
Filter (ideally with biological, chemical, and mechanical filtration)
Natural seawater or aquarium salt mix to make saltwater
Your plant and aquatic life will also need appropriate light to support growth. Research the best type of lighting for the species you plan to include.
There are more optional components you might consider as well. For instance, you could purchase:
Heater set for temperature fluctuations
Wavemaker for water movement
Protein skimmer (click here for our protein skimmer buyer's guide)
A backup tank (in case problems arise)
Medications for fish
Setting Up
You can't just dump everything into the tank at the same time. If you want to get the best performance, your fish need time to acclimate. You should conduct tank setup in the following steps:
Add the live rocks and sand about two inches deep.
Add your filter bag and other appliances.
Slowly add saltwater.
Turn on your heater and filtration system and add protein skimmers.
Let your tank cycle for about four to six weeks.
Once you reach this phase, add half of your inhabitants on a two-per-week basis.
The setup experience for reefs requires patience and attention. If you set up too quickly, you could kill your corals. Not sure how to pick an SPS coral or participant set? 
Here are a few options:
All variety of snails
Hermit Crabs or Emerald Crabs
Mushrooms
LPS corals
Torch corals
Royal gramma
Jawfish
Maintenance
You'll need to keep algae away by cleaning the water and sump regularly. You have the option to do small partial water changes weekly or larger changes every two weeks. Test your water chamber regularly to make sure calcium and alkalinity are at healthy levels.
Our Top Pick
While any of the nano marine tanks we've covered in our review would make an excellent choice, our top pick for the best nano reef tank on the market is the Hagen HG Fluval Flex Aquarium.
This tank has a beautiful design and blends well in most homes. The 15 different LED light colors and channel categories make your corals look fantastic day and night. Also, the remote control for the LED lighting is fun to use, giving you optimal lighting conditions.
It has plenty of space in the back to add any accessories you need. Everyone—whether an expert or novice—will enjoy using it. The lid size is perfect for a medium-capacity aquarium, so you don't have to feel limited when selecting your reef safe fish species.
The Hagen HG is also low maintenance. In addition to changing the water regularly, your only other job is to clean the filter now and then.
Related Buyer's Guides:
Best Aquarium Stands for Any Gallon Size Fish Tanks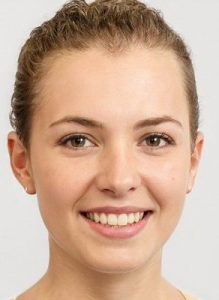 Latest posts by Kelly Stanley
(see all)