Whether your passion is fish, reptiles, or amphibians, a large tank, herbarium, or terrarium affords you a lot of versatility and grand selection for your pets.
A 55-gallon fish tank allows pet owners to house a small school of small fish comfortably or blend larger (more delicate) breeds in style. Such a massive tank takes up plenty of space, though. You would probably want it to integrate into your home decor so that it enhances the space as a functional and stylish feature.
In this article, we'll review what to look for in your search for the premium 55-gallon fish tank stand. We address the main types of stands to show you how the models differ, and what to watch out for when making a final choice.
Then, we'll give you our picks for the best stands currently available on the market, sharing the reasons that we think these products are worth your money.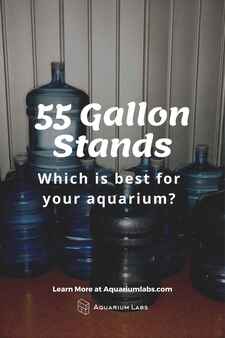 The 3 Types of Stands
A fish tank stand comes in a variety of different materials with different features and prices. The type of stand you choose depends on your budget, needs, and the model. Do you want a new supporting cabinet to hold all of your accessories or a simple, sturdy display for your stand?
Remember to always look for special offers, like free shipping, to help make your 55 gallon choice even more economical.
Wooden fish tanks with stands might seem like an excellent option considering the range that's available on the market. Robust and rustic, it looks like another piece of furniture in your house, integrated seamlessly into your decor. It also provides storage for accessories, including heaters, food, and other pet products.
Wood tanks do have a variety of issues that you might not have considered, though. It can decrease their value and appeal to some households.
For instance, many wood tank stands are made of particle board with a thin veneer, which doesn't react well to water. It acts like a sponge, expanding and threatening the integrity of the container (which could lead to a sudden disaster if not taken care of properly).
A wooden stand is perfect for acrylic tanks, though. It provides complete support for the base, unlike metal stands. It also usually includes compartments for storage, which can be very handy to stow away all of the pet accessories in a convenient spot.
It frequently sports a sleek, finished look, which acts as an additional storage space in your living room and a stylish piece of furniture.
Pay attention to the quality of your wood stand, though. Standard particleboard is treacherous, as we've discussed above because it expands when wet and may cause a costly collapse.
If you can, search for wood stands made of medium density fiberboard or finished hardwoods with moisture resistance. These materials are likely to be more expensive, but well worth the quality and aesthetic aspects.
Metal tank stands have the advantage of being sturdy and affordable while being a little more discreet in their functionality. Unlike wooden tanks, these metal versions often lack the storage space that makes wooden stands useful as more than a support. Depending on the type of collection you own, it can also be prone to rust, which is unacceptable when that much water is leaning on it for support.
Metal stands generally support only the frame of the container, making it ideal for glass tanks but not for acrylic tanks (which degrade over time). When considering a metal stand, make sure that it's constructed with a treatment for moisture resistance, too. Perhaps, reconsider buying one if you are planning on saltwater animals in the tank—salt increases the corrosion rate dramatically.
Metal is a terrific option for a glass tank stand if you're on a tight budget, but consider the additional items you use.  There is not usually much storage space if any, but it can provide a sleek, modern look within the room.
A mixed stand blends the advantages of both a wood and metal stand, providing a solid foundation for acrylic stands with storage capacity and strength. It is usually quite a bit more expensive than fiberboard or metal, and you must address the same concerns as those materials, such as corrosion, water damage, and rot.
Mixed-media tank stands often come with storage space and additional metal support for the heavy tank. It would be best if you still made sure that the materials hold up adequately against saltwater and corrosion, though. The best options come powder-coated to resist oxidation.
Advantages of Stands
The obvious advantage of a terrific stand is that it gives you a beautiful place to put your tank where it's accessible.
Fish tank platforms put your aquatic friends or small pets in a convenient location to make sure that you care for them and enhance your enjoyment of the process. These advantages come only with selecting the right frame for the purpose, though.
Different types of tanks have different requirements, so you should always optimize your chosen stand for your particular purpose. Acrylic tanks need support, so metal frames may not be the best idea. It is also essential to make sure that the support you select supports the dimensions and weight limit of your container optimally.
Disadvantages of Stands
The wrong stand can be just as detrimental as the wrong tank, even having no support at all.
If you fail to care for the support you purchase, you risk significant damage to your house and an impending catastrophe for your pets. A gallon fish tank designed for your aquarium requires money, space, and a flair for interior design. You want to make sure that you don't want to throw any old thing into the center of your daily life.
Aquarium stands can also corrode or rot easily, depending on the type. It's not enough to take excellent care of your pets—you also need to devote a little time to ensure your stand remains secure, which can be a hassle if you want something you don't have to think about for years.
55 Gallon Aquarium Stands Reviews
1. Imagitarium Brooklyn Metal Tank Stand
If you're looking for an aquarium stand that works well with any decor because of its minimalist design and sleek surface, the Imagitarium Brooklyn Metal Stand could be a perfect choice.
The 55 gallon metal stand comes in a variety of sizes to fit your glass tank and has adjustable feet for precise leveling. It's also more affordable than cabinet style features, putting it well within range for the aquatic aficionado on a tight budget.
While its simple design may fit well in any interior, buyers should be aware that the water-resistant coating can scratch. It will need care whenever possible as you check it often.
It also doesn't have any shelving, so you may need additional space or to find somewhere else to store your pet supplies, heaters, and other gadgets. Customers also report that the vertical supports sometimes don't line up correctly with the horizontal supports, leaving a small gap that may topple your stand.
Pros
Inexpensive
Sturdy and stylish construction that looks great anywhere
Adjustable leveling
Cons
Powder-coating may scratch
Vertical supports sometimes not flush with the horizontal supports
No space for storage
2. Caitec TitanEze Aquarium Stand
If you're looking for one of the best metal stands, well within anyone's price range, consider this simple stand from Caitec.
It features elegant swirled decorative accents on the vertical supports and holds two fish tanks above and below. It may not be the best stand for acrylic tanks, as it only has a framework for specific sizes, and the bottom of the tank is unsupported. It is excellent for glass tanks, however, and easy to set up without tools or specialized equipment.
It comes with a moisture-resistant powder coating, which is susceptible to scratching, so you should be careful with the finish. Customers should always be on guard with children around this habitat, however, particularly with only one container in the top support. The fish tank with stand is tall, so balancing a large tank on it is not advisable—it may make it a top-heavy, which can be dangerous if you have small children or boisterous pets.
Pros
Holds not one, but two large gallon tanks simultaneously
Moisture-resistant powder-coated finish
Affordable
Cons
Unsuitable for acrylic aquariums
Needs to balance properly
The coating is vulnerable to scratches
3. Aqua Culture Deluxe Aquarium 55-Gallon Stand with Moisture Resistant Powder Coated Top Base and Door
One of the best pieces of aquarium furniture we've seen is this versatile and stylish mixed-media fish tank stand from Aqua Culture.
Easily hide all of your aquarium necessities behind the reversible flat panel doors, which are available in any color you choose. Wood veneers on the cabinet door make sure that you can showcase either an elegant cherry wood grain or minimalist flat black, depending on your preferences.
The fish tank stand is made of mixed materials and comes with a powder-coating finish to resist water damage. It also has complete support for the bottom of your aquarium, making it an ideal cabinet stand for acrylic containers that tend to degrade over time and are prone to weak bases.
Regardless of which aquarium you have, it provides an excellent display platform and terrific storage for your aquatic accessories.
Pros
Reversible doors for additional aesthetic choices
Excellent container space for accessories
Moisture resistant coating to prevent decay or rust
Cons
Expensive compared with competitors
Requires a flat surface because there are no levelers
4. Aquatic Fundamentals 55 Gallon Aquarium Stand with Shelf
The Aquatic Fundamentals display is another mixed-media unit that looks amazing in a well-decorated interior. It also comes with ample space for storage.
The unique design blends wood and metal, features the stand itself, shelf space, and front doors with a completely supported base for your acrylic aquarium. The additional shelf space creates no less than five places for display or putting things out of sight.
All metal pieces lock together firmly, adding strength to the unit. It is also relatively inexpensive compared to similar models.
The assembly is effortless and sturdy despite a top-heavy design and appearance. The unit does take up a lot of floor space and doesn't include adjustable feet for added stability, so it requires a level surface to install.
Pros
Easy to assemble
Excellent storage space with shelves for additional display
All metal pieces lock together to add stability
Cons
Not adjustable
No mention of waterproof coating
5. Aquatic Fundamentals 102102 Metal Aquarium Stand, Classic Scroll Design
If you find yourself in search of something with a more classical appearance, which still provides excellent support for your aquarium, the Aquatic Fundamentals Metal Stand might be the one.
It has an exciting scroll design giving it an air of old-fashioned elegance, but it is still terrific support for glass tanks and terrariums.
The display is easy to assemble, requiring few tools, but still has a water-resistant coating on all the metal surfaces that will prevent the unit from rusting too quickly. The innovative display unit is also lighter than many other models and doesn't take up as much space.
You can add an aftermarket shelf on the bottom for books or other display articles, which is a nice touch. Be careful with children and animals, however, as it is top-heavy, and could easily tip if jostled too roughly.
Pros
Inexpensive
Sturdy enough for large aquariums
Excellent for glass tanks
Water and humidity-resistant coating
Cons
Not ideal for acrylic aquariums
Top-heavy, which is not recommended around children and animals
Our Top Pick
The Imagitarium Brooklyn Metal Tank Stand, 55 Gallon unit that we reviewed above is a perfect choice for most homes in any location. It offers excellent durability for its size, particularly for a glass aquarium.
The adjustable feet also add stability, while its metal construction keeps the entire structure light enough to fit perfectly wherever you choose to place it, whether it be an office or a children's bedroom.
The powder-coat finish, along with the crossbeam support, ensures that your aquarium is supported no matter the type of aquarium you own. It works well in any room, enhancing the beauty of your household.
Regardless of which stand that you choose, however, you will need to make sure that you have the right size tank to support the stand. Different model aquariums present challenges when fitting adequately onto certain types of cabinets, for example. It is also recommended that you make sure the environment is clear of heavy traffic, like dogs or small children.
Buying a 55 gallon fish tank is a commitment to proudly display your glass aquarium in your living space. Spend some time working on a budget and deciding what features you most want in a stand, and determine where you want to put it, before purchasing.
Latest Article:
The Best Self Cleaning Fish Tanks of the Year Reviewed