Without an LED lighting system in your reef aquarium, you are not truly getting the most out of the experience.
The visual effects of these lighting systems allow you to showcase the finer details of all that your exciting marine life collection has to offer.
Not only does it offer outstanding visual effects, but LED lighting also helps your ecosystem grow and flourish.
Natural reefs are predisposed to harvesting energy from the beneficial lighting found in an ocean environment, for example.
Benefits of LED Lighting for Fish Tanks
Compared to a boring option without LED lighting for reef tanks, well-lit LEDs for reef tanks awe any houseguests, captivating passersby. It's the moving display of the beauty of nature that will be undeniable.
These LED lighting systems also make a fantastic feature for businesses that have reef tanks. It sets an elegant ambiance for any restaurant or company waiting room, for example.
Let's see what else these reef LED features can offer:
The 11 Best LED Lights for Reef Tank Reviews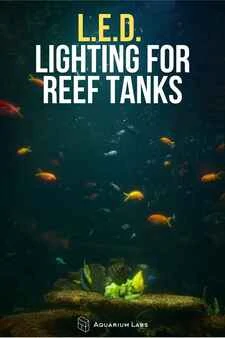 1. Current USA Orbit Marine Aquarium LED Light
The Current USA Orbit Marine LED model also comes in a variety of wattages, between 18 to 48 watts. It allows you to pick the best one for your outlets.
We may have saved some of the best options for later on this list because the LED aquarium system is among the finest on the market. It is incredibly easy to operate, priced fairly, easy to install, and efficient for its slender size. It can be remote control operated, allowing you to go about your day and change the settings as you see fit, whether you're watching TV or taking a bubble bath at the other end of the house.
As if the low wattage options weren't enough, the Current USA Orbit Marine model is carefully curated to use much less power than similar LED lighting systems. Current USA Orbit Marine laughs in the face of a 90-degree dispersion angle, for example, offering a whopping 120-degree option to keep the entire area lit.
It is created to work in both saltwater and freshwater tanks, outdoing the competition in its versatility.
Pros
Massive 120-degree dispersion ability
Low wattage options between 18 and 48 watts
Saves energy
Promotes growth in saltwater
Easy to use and install
Compact
Remote operated
Cons
Risk of losing the remote and not being able to operate it
2. HIPARGERO LED Aquarium Light
The LEDs main incentive is that it provides fantastic light within the tank. It also happens to be made from high-quality materials, but customers primarily love how well it illuminates the tank. It isn't the same as ordinary LEDs either, the Cree LED aquarium lighting is modified to make sure it helps life flourish as much as possible.
It has been carefully designed with high-powered streams of white and blue LED lights, creating the right natural conditions to help the ecosystem thrive.
One of the best LED models has three options for light dimming and allows you to adjust it with a dial (as high or low as you want it for your ecosystem. The material has been well-reviewed and shown to be durable, even when dropped.
As for the light itself, it is built to stick around for years to come. The LEDs are also easy to assemble and install, allowing you to plug it in and worry about the more important things in life.
It is an excellent option for your LED reef tanks that isn't going to empty your wallet in the process. It is great for reef LED models in both homes and businesses, and the design makes it aesthetically stylish, too.
Pros
Phenomenal LEDs
Tough materials
Two full spectrum white and actinic blue LED lights
Cree LED light
Adjustable dimness
Full spectrum light intensity
Affordable
One-year warranty
Covers 90-degrees
Promotes aquatic life
Cons
3. VIPARSPECTRA Timer Control Dimmable LED Aquarium Light
Between the price point and the performance, the VIPARSPECTRA Timer Control model might be your best LED choice for quality LED lights in your reef environment.
The VIPARSPECTRA Timer Control model includes a built-in timer that allows you to control your light precisely, offering a simple solution to any inconveniences apparent in other models. All you need to do is click a few buttons and it will be programmed to deliver the exact specifications that you need to keep your marine life happy and healthy.
The VIPARSPECTRA Timer Control design is the result of countless brainstorming sessions with customers. It has put the product in a league of its own as far as efficiency and effectiveness.
Some of the best LED lights have been shown to help plants grow faster than other models, all by delivering the perfect blend of different colored UV lights. It is recommended that new owners start with a low light and progress slowly to see how the ecosystem responds.
Pros
Reasonably priced
Durable
Programs easily
Combines full spectrum UV colors
Helps plants grow
Built-in timer
Manufactured with extensive customer input
Lasts over 20,000 hours
Cons
Programmability may throw some users off
4. Phlizon Dimmable Full Spectrum Aquarium LED Reef Decoration Light
The experts at Phlizon offer a large spectrum of lighting mechanisms to keep your collection prospering. The reef LED light is compact and easy to use.
The blue light alone has proven to give reef organisms the nutrients to continue growing. It also has an amazing selection of purple, green, red, and white LED lights, which combine to offer something for the whole ecosystem to enjoy.
In addition to being sleek, sophisticated, and professional, these reef LEDs benefit both saltwater and freshwater tanks.
It features a useful dimming mechanism that allows you to easily adjust the LEDs whenever needed. The setup is simple—only a few seconds to plug it in and watch it work its magic. If you owned the unit before purchasing a proper UV LED light, keep it low and increase it incrementally until the inhabitants are accustomed to the change.
The collection will be able to handle any spectrum of light in time, with the optimal level dependent on the unique needs.
It allows you to display night and day settings so that the growth cycle remains as constant as it would in nature. It runs on 165 watts, though, so make sure it matches your electrical needs.
Pros
Four kinds of LED lights, including actinic blue
Sleek and sophisticated design
Easy to transport and compact
Full spectrum UV light promotes growth
Night and day settings control light intensity
Cons
Not as strong as some other options
165 watts
5. Kessil Tuna Blue A80 LED Light w/ Mini Gooseneck
A large tank calls for a large light, but you can't argue with the portability benefit of a smaller light—the model from Kessil has that in spades.
It is small, while still offering all the full-spectrum lighting of LEDs that your plants and reefs need to thrive. Even if you have a medium-sized tank, this model will be a perfect match. When it comes to cramped spaces, the model gives you everything you could want in a 15-watt LED light.
As a drawback, it does not include a fan for cooling, but its aluminum structure defers some of the heat created by the LEDs. It is also specially made for saltwater aquariums and nano tanks that focus on marine life and reefs, so you will need to find other options for any freshwater units.
Despite what its compact size indicates, there are plenty of controls to take advantage of this model, including light intensity dimmers and color changers. It is a perfect match for a tight space and tight budget consumer with a powerful lens in a small package, your ecosystem will thank you later.
Pros
15-watt system saves energy
Fits in cramped spaces
Full-spectrum light to help saltwater reefs and plants grow
Cons
Not as powerful as other LEDs
Does not have a fan, so it may overheat
6. WILLS Newest LED Aquarium Light
The WILLS system is one of the easier options to set up on our list.
Despite its affordability, it is one of the best models on the market for helping your ecosystem thrive. It is worth every penny, reflected in its high-powered design and unique blend of blue and white lighting.
Although it requires a small amount of assembly, it is easy to move, and works perfectly for its size. It will not take up much energy, and the light makes it easy to pack up and take with you when you move, too
These types of LEDs have a key selling point: it is slim and fashionable and looks great incorporated into any modern home or business.
As for the LED lights, it is designed to provide the purest form possible through a multi-band system. So many bands of light illuminate your whole tank while remaining as healthy as ever. It comes with a one-year warranty and an adjustable bracket so that you can maneuver it however you please without worrying about breakages.
The ability to adjust its dimming between two levels, while controlling it from the dials on the back, is paramount. Its secondary optimal lens also gives a deeper penetration ability than other models.
Overall, it's an excellent choice with a valuable warranty.
Pros
Two dimming channels for lighting intensity
Portable
1-year warranty guarantee
Several colors to promote growth
Lasts over 50,000 hours
Cons
165-watt system
Heavy (6.6 pounds)
7. Kessil A360WE Controllable LED Aquarium Light
The most expensive option on this list is among the best LEDs on the market. It boasts a massive set of energy-efficient marine aquarium LED light options with staggering output and conservative energy. Those LED lights project multiple colors, which you can control to your liking, dimming, and intensifying as you please while you change shades.
It offers high-degree turning angles, too, so that your tank has the full spectrum of light it needs.
The main difference is the purity of the light. It is beyond HD in its capacity to deliver nutrients for your plants to achieve photosynthesis, for example. Combine that with the range of color and lighting options, and it is a premium LED system to put on your wish list.
A controller is standard for this model but makes it easier to operate.
Pros
Optimal coral growth
Portable LEDs
External controls for the light spectrum intensity
Cons
Small
Made for reef aquariums, not great for other models
8. MarsAqua Dimmable LED Aquarium Coral Reef Light
MarsAqua is a trusted brand in fish tank accessories. Even more so than the last model, this LED aquarium light system uses an expert combination of blue, white, and red light to facilitate the premium growth of your coral and fish. It is crafted to help water-based plants reach their full potential, promoting stability in the process.
It is also easy to operate with several switches to adjust your dimness. The brightness of the light will be dependent upon your personal specifications, giving you the freedom to control the nutrients your plants receive.
The LED lights have been shown to be considerably brighter than other LED models, which hints at the premium price. One light is great for a tank of up to 55 gallons, with expansion light options if you have a bigger model.
The strength of the LED lights penetrates deeper into the area than other models, making it perfect for larger tanks that hold many organisms. It has a tough exterior frame for durability and copper on the inside that builds heat better than similar brands.
The venting system counteracts the heating feature and cools the exterior for balance.
Pros
Light penetrates deep into water
Fits large tanks
LED aquarium light system promotes growth
Fanning system
Cons
9. Lominie LED Aquarium Nano Fish Tank Lights
Another affordable option for the fish tank aficionado, it makes the most of its 30-watt power while saving you money in comparison. Its 90-degree lens provides enhanced lighting from six colors, including two types of blue, red, green, white, and UV lights.
Not to be ignored, many customers say the company has fantastic customer service, too.
The fan-free design still manages to keep cool under pressure, while 4-setting dimming allows you to adjust the lighting to your ecosystem's needs. The unique aluminum heat-sink has a cooling effect, which keeps it manageable.
The fan-free design is also completely silent, promoting sleep and calm in the environment.
It has a remote to increase your lighting all the way up to full, customizing the perfect shade for your aquatic friends. A smaller wattage and lack of a fan also mean less to go wrong, and for the price, it is certainly a bargain.
Pros
Affordable LED aquarium light
Silent, fan-free design
Dimming LED lights option
Great customer service
Cons
Less durable than more expensive options
10. Fluval Sea Marine Nano Bluetooth LED Light
The reasonably priced model offers just about everything you would need in LED lights options, plus perks that make it stand out from the crowd.
It is perfect for keeping saltwater reef tanks functioning. It is also a smaller light that runs on 20 watts of power, which is easy on the electric bill. It even has Bluetooth capabilities, where you can login to an app and control its settings.
The unique design allows you to choose from several programmable light settings at different times of day. For example, it can run on a 24-hour cycle, including light options for morning, afternoon, and night with artificial sunlight.
The light system knows it will need to use those light settings than when it is midday, for example. It saves considerably on the efficiency of the system.
It is only five inches across, so it can go anywhere. The power of the light is not diminished by its compact size, either. The frame is significantly lighter than other models, so with a waterproof design, this LED aquarium light system has it all.
Choose from seven different band waves of light, customizing to what will make your tank prosper. The light is considered extremely efficient for its size and remains quite stylish. Setup is easy, as a bracket can be installed to the tank in seconds. You can use the app to control the light as you go.
Pros
Mimics times of the day with its lighting
20 watts but still powerful
Cheap but durable
Bluetooth capabilities
Cons
Smaller than other options
Lightweight (if you're looking for something stronger)
11. Current USA Orbit IC LED
The model is available from 21 to 63 watts, which is still energy-saving at the highest wattage. You can choose between 18 to 72 inches wide to match your tank's size, giving you the freedom to display this high-tech option with peace of mind.
It is the premium LED aquarium light system on the list, as the price tag reflects, but the light is superb with pure white and blue options that illuminate the area beautifully. Your ecosystem will thrive.
The lens rotates ninety degrees, bathing the entire tank in light. The light is secondary to the gadgets, though. It has top-of-the-line innovations, including settings that can ripple waves in the tank, create clouds, and conjure currents—your marine life will feel right at home.
It is also easy to install for tanks that are 18" and 24" wide.
Pros
Impressive light rotation
Adjustable wide frame light
Varieties of wattage
Two types of ripples, waves, and high-tech perks
Phenomenal full spectrum lighting
Cons
Expensive
Heavier than other options
Extra
We recently wrote a review of a popular AquaIllumination model a lot of reef tank hobbyists use.
Read our AI Hydra 26 HD review!
Features You Need to Consider for Your Reef Tank's LED Lighting System
The full spectrum benefits LED lighting provides is essential for the ecosystem of a reef tank. It also complements your unique needs at home.
The best LED system is different for everyone, but there are some common factors, including assessing the following features:
Our Top Pick
Between the variety of wattages, lighting capabilities, price, remote operation, and angles of dispersion, the LED Current USA lighting system is one of the best LED reef models on the market.
You would be hard-pressed to find a better option, especially considering its portability and slender frame. Whether your tank is salt or freshwater, this Current USA Orbit model is a brilliant option for your LEDs.
No matter what model you choose, there is something here to meet your needs. Do a quick search on what your plants, reefs, and aquatic animals need, and match the best LED lighting system to fit the style, needs, and price range for your reef tanks.
Happy hunting!
Related: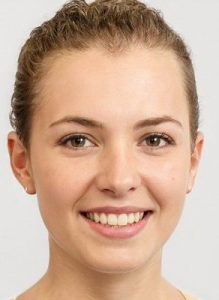 Latest posts by Kelly Stanley
(see all)