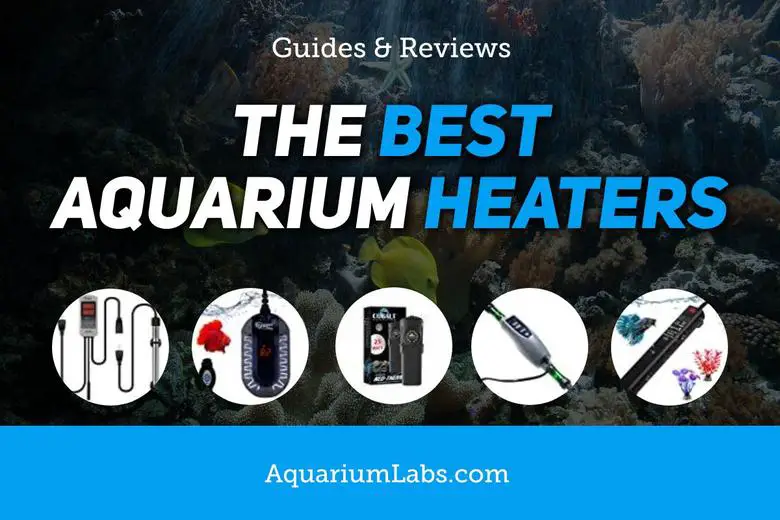 A good aquarium heater has only one job: to heat up the water in your fish tank. However, it also has to be reliable, safe, and easy-to-use. 
A good heater will be able to maintain a steady temperature, offer safety features to prevent it from burning out or failing, and last for many years.
The consequences of using the wrong aquarium heater can be dangerous (or even deadly) for your fishy friends. That's why we recommend using a high-quality heater that can be programmed for precise temperature and will keep that temperature stable, regardless of external temperatures. 
We've compiled a comprehensive list of the best aquarium heaters for all types of aquariums, no matter how large or small. This should be helpful to new hobbyists and experienced buyers.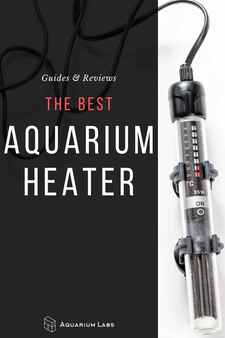 The 6 Top-Rated Aquarium Heaters
| | | |
| --- | --- | --- |
| | | |
| | | |
| | | 25, 50, 75, 100, 150, 200, 300 Watts |
| | | 50, 100, 150, 200, 300 Watts |
| | | |
| | | |
| | | |
Best Rated: Hygger Saltwater Tank Titanium Tube Submersible Pinpoint Aquarium Heater
Most aquarium heaters use glass or plastic tubes to keep them waterproof. These cases are sensitive to heat differentials and may sometimes crack or shatter the glass, resulting in a tank of electrocuted fish.
The Hygger has no glass casing. Instead, it is made from titanium. Titanium is well-known for being tough and robust. It is also very good at conducting heat, resulting in a more effective heater.
In terms of ease of set up and use, the Hygger is outstanding. You can program the thermostat in either F or C, depending on your preference, within the range of 32 and 104 F. 
The thermostat is accurate to within 0.5 C and has an automatic shutoff that switches the heater off when it reaches the requested temperature.
The heater comes in a variety of wattage ratings, from 50 watts to 500 watts. So no matter what size tank you have, there is a Hygger heater that will meet your needs.
A Close Second: Cobalt Aquatics Flat Neo-Therm Heater with Adjustable Thermostat
The Cobalt Aquatics heater is a fully submersible heater covered with discreet black plastic. The sleek design is very functional, and you can mount the heater with the display facing inwards or outwards. 
The thermostat uses a one-touch heating system to set the temperature between 66 and 96 F and will shut down once it registers the desired temperature.
The main appeal of this heater is the bulletproof thermoplastic casing that can withstand anything the environment throws at it. It is completely shatterproof, making it a safer option than heaters with a glass casing. 
It can raise the temperature of a tank up to 11 F over the ambient room temperature, so it's suitable for use even in very cold climates. The thermostat will measure the current temperature with an accuracy margin of 0.5 F, which provides very precise control.
Best Budget-Friendly Choice: Aqueon Adjustable Aquarium Heater
The Aqueon pro adjustable aquarium heater offers many of the same features as higher-end models. It is made out of thermoplastic, which conducts heat well, and it is completely shatterproof.
The controls for the thermostat are on the top of the heater, making it easier to operate than the Cobalt Neo-Therm heater. It has a large control knob and an indicator light that will tell you if it's heating or whether the water is at the desired temperature.
It also has an auto-shutoff feature to save energy and to stop the fish from getting too toasty in their tank. A nifty touch is that the heater will also turn off when it detects it has been removed from water, which can prevent potential burnout.
The main area where the Aqueon falls behind it's more expensive rivals is the temperature dial. In general, it isn't extremely accurate. Many users have reported seeing a 1 to 2 F discrepancy between the temperature display and a second thermometer.
Best Small Aquarium Heater: Hygger Submersible Digital Display Mini Aquarium Heater
If you have multiple aquariums with small tanks, consider a mini-heater instead of the big submersible ones. The Hygger Mini Aquarium Heater can handle tanks of up to 13 gallons with no issue at all. 
The compact design with suction cups makes it easy to install on glass, plastic, or acrylic tanks. And it is reasonably priced, so buying multiple units is well within the range of possibilities.
The heater comes with an external controller that allows you to set the temperature range and monitor how well the heater is doing its job. 
Despite its small size, the Hygger mini heater has a temperature range between 63 and 94 F and is accurate to within 1 F. The only drawback is that the external controller isn't waterproof, so you need to be careful when changing your thermostat settings.
Best Inline Aquarium Heater: ISTA InLine External Heater Aquarium Heater
Inline heaters are a great option for people with turtles or cichlids (which love to chew heaters to pieces). External heaters offer several advantages, such as consistent water heating and no risk of scalding or shattering in the tank. 
They're also more convenient to use as you don't need to get your hands wet to change the temperature settings.
The ISTA inline heater is available in a range of wattages, depending on your tank size. It is most commonly used with canister filters but can be adapted to work with any canister filter type. 
Installation can be a bit tricky since it requires cutting your filter's output tubing and splicing the heater in. Some users report leaking at the connections, though this can be fixed by using hose clamps.
Best Mini Aquarium Heater: SZELAM Smart Mini Aquarium Heater
If you have a tiny tank, you'll want a tiny heater to go along with it. The SZELAM mini aquarium heater may be small, but it doesn't compromise on quality. All you need to do is place it on the wall of your tank using the convenient suction cups, plug it in, and you're done.
The main feature of this mini heater is that it doesn't have a set temperature. Instead, it heats the water to a range between 73 and 82 F. This is fine for most tropical fish aquariums but may be an issue if you've got a fish species that is sensitive to temperature changes.
Overall, the SZELAM mini heater is the best option for beginner fish keepers who are dipping their toe before committing to a bigger, more serious project.
Best and Most Efficient Aquarium Heater Reviews
50W and Under Reviews
ViaAqua Titanium Aquarium Heater
Specific Features
Titanium heating element
Adjustable settings from 68 – 93 F
Compact design
Remote temperature sensor
Aqueon Submersible Heater
Specific Features
Precise temperature settings to 1 F, temperature range from 68 to 88 F
Shatter-resistant construction
LED light
Lifetime warranty
FREESEA 50W Mini Aquarium Fish Tank
Specific Features
Multi-function LED digital display
External control system
Small size
Hydor Mini Heater for Aquariums
Specific Features
Extra-small
Suitable for fresh and saltwater tanks
Fully submersible
No thermostat
GOOBAT Mini Betta Heater for Aquariums
Specific Features
Made of PPC plastic
Automatically reaches 78 F
Red indicator light to show when it's working
51 W to 200 W Aquarium Heaters
Upettools Submersible Aquarium Heater
Specific Features
Dual CPU safety design prevents overheating or overcooling
Made from quartz that can resist temperatures of 1000 F
Suitable for salt and freshwater tanks
Aqueon Pro Heaters Submersible Aquarium Heaters
Specific Features
Adjustable heat setting from 68 – 88 F, with an accuracy of +/- 1 F
Shatterproof and nearly indestructible
Auto-shutoff and resume functionality
Variable LED indicator shows when the unit is heating or not heating
Finnex Hang-On Electronic Controller Aquarium Heater
Specific Features
Titanium tube
Compact size makes the tubes easy to hide
LED indicator shows when the heater is on
External electronic controller
Grow Generation Elemental Solutions H2O Titanium Heater
Specific Features
Has a remote temperature probe
One-year warranty
Titanium element heats water between 68 and 92 F
EHEIM Jager Aquarium Thermostat Heater
Specific Features
Made with laboratory-grade shatterproof glass
Temperature setting between 65 and 93 F
Includes mounting bracket and suction cups
Extra-long power cord
Orlushy Submersible Aquarium Heater
Specific Features
Quartz-glass tube that is easy to hide
Adjustable and sensitive thermostat
Comes with overheating protection
Uniclife Submersible Aquarium Heater
Specific Features
Practical and easy to read thermometer
Can maintain a range of between 61 – 90 F
Control knob is on top of the heater
AQUATOP Aquatic Supplies Submersible Glass Aquarium Heater
Specific Features
Made with shatterproof glass
Easy to adjust temperature control on top of the heater
Color-coded temperature gauge on the side of the heater
200W to 500W Aquarium Heaters
Hydor Inline External Heater
Specific Features
Fits onto most canister filters
Has a self-limiting PTC heating element that prevents overheating
Electronic temperature control
ViaAqua 300 Watt Titanium Heater
Specific Features
External controller is easy to read
Durable titanium heating tube
Can switch between C and F
Remote temperature sensor for added accuracy
Fluval E Electronic Heater
Specific Features
Dual temperature sensors
Integrated fish guard
Colored display alert system
Slim profile mounting bracket
MWGears Deluxe Submersible Aquarium Titanium Heater
Specific Features
Quality titanium casing means the heater can be used with a bottom filtration system
Adjustable temperature with external temperature control system
Easy to read and use temperature display
HITOP Adjustable Submersible Aquarium Fish Tank Heater
Specific Features
Made with a PTC element and cased in titanium oxide ceramic (extremely resistant to breaking and shattering)
Kit comes with a stick-on thermometer
Protective cover prevents fish from getting scalded
Hygger Submersible Aquarium Heater
Specific Features
Constructed with a milky-quartz casing that is shatter and explosion-proof
Three-year service life
Auto shutoff and restart function
Tiny heater that can deliver 300 W of heating
500W+ Aquarium Heaters
Hygger Aquarium Heater, Submersible Fish Tank Water Heater
Specific Features
Rapid heating due to aluminum casing that promotes heat conduction into the water
Takes advantage of thermal energy inertia to smoothly warm up until the desired temperature is reached (without overshooting)
Will turn off automatically when exposed to air, and will restart when exposed to water
Three-digit digital display, accurate to 0.5 F
Catalina RF-1000T Heat Controller and 1000 Watt Titanium Heater
Specific Features
Suitable for 400 gallon aquariums
Corrosion-proof and suitable for saltwater use
Operating range of 72 – 93 F
Finnex Digital Heater Controller
Specific Features
Advanced heating control technology that will alert you when the water is too cold or too hot
Compatible with additional heating units
Will maintain temperature 2 F above and below the set value
Penn Plax CH23800 Aquarium Heater Fully Submersible Deluxe Warm
Specific Features
Double-sealed quartz tube
Can be set between 61 and 90 F
Convenient LED screen allows you to monitor the temperature
A Guide On Choosing the Best Aquarium Heater for You
Finding the best heater for fish owners can be tricky. There are hundreds of different options available, and it's easy to get overwhelmed by the sheer amount of information. Since the fish tank heater you choose will have a large impact on your fish tank environment, you must have an understanding of what your requirements are to make the right decision for your needs.
Here are some important factors to keep in mind when looking at the various heaters on the market. Remember that each type of heater will have its own pros and cons for different types of aquarium, so make sure you choose the right one for your tank.
Key Features to Consider
Wattage
The wattage of a heater determines how much power it puts out, which affects how quickly it can heat the water around it. 
The more water you have in your tank, the higher the wattage needs to be in order to maintain an even water temperature. You also need to consider ambient aquarium heat. A decent heater should be able to heat a tank a couple of degrees above ambient room temperature.
A general rule for stable temperatures is to have around 5 watts per gallon of water. If you have a tank over 75 gallons, we also recommend using two (or more) heaters instead of buying one very powerful heater. 
This is because two heaters will be able to heat double the water of one high-watt heater, making it easier to maintain a suitable temperature range. This is true for all larger tanks. So instead of getting one 375 watt heater, get two 175 – 200 watt heaters for a 75 gallon tank.
Adjustable Temperature
Some aquarium heaters come with a pre-programmed temperature setting that is impossible to change. Pre-set heaters are perfectly fine if you have a stable fish tank and aren't bringing in any new fish or making other changes.
However, there may be many situations in which you want to change the temperature, in which case a fixed-temperature unit becomes useless. 
It is wiser to spend the extra money upfront, buying a model with variable temperature controls. Most heaters on the market will have adjustable temperature controls that are easy to set up.
Safety Features
A typical heater for a fish tank is basically electric elements that are submerged in water. As there's a lot that can go wrong when combining electricity with water, you'll want an electronic model that comes with safety features. 
These features will prevent your heater from overheating, which can kill your fish. They will also prevent the chance of electrical fires or electrocution.
One of the most important safety features is an auto-shutoff function. This will detect when the water temperature is too high and will turn the heater off. Good heaters will also resume heating once they detect that the water temperature has dropped.
The most common type of electronic heater is the fully submersible heater. These heaters have a heating element encased in glass or ceramic, which is then enclosed by watertight plastic or glass. 
The glass tube enclosure is typically very robust and can withstand abuse from fish and the environment. More manufacturers are starting to use different materials that are less likely to shatter, such as thermoplastic or titanium. These are great if you have aggressive fish and want to make sure they can't break your electronic heater.
Another useful safety feature is an indicator light that shows when the heater is working. This will provide a means of knowing whether the heater is on or not without having to measure the water temperature around the heater.
Ease of Use
Aquarium heaters are simple enough to use. However, some do come with quality-of-life heater features that make using them even more convenient.
Nothing is more frustrating than trying to change the set temperature and having to dig around in the water for the controls. Some heaters come with easy to use and intuitive controls that make changing the settings a breeze.
Also, look for heaters that have digital temperature gauges that are easy to read. This will prevent you from having to guess what the exact temperature is. 
We also strongly recommend that you have a separate digital thermometer in the tank to make sure that it's functioning correctly. Heaters can, and will, fail, so having a second thermometer will help you pick up on this failure much sooner than you would otherwise.
Frequently Asked Questions
What is an aquarium heater, and how do they work?
An aquarium heater is just that, a way to heat water in your aquarium. Most tropical fish need a specific temperature range to thrive, and unless you live in the tropics, you'll need a heater to provide this heat.
Heaters work on the same principle as an electric kettle. Electricity passes through a heating element, which generates enough heat to warm the water around the element. The water then circulates throughout the tank, heating up all the water in the tank, eventually.
Who should buy an aquarium heater?
You should consider a heater for any aquarium fish that need a stable temperature. This refers to many fish that are kept in aquariums (even if just for a hobby). 
Each fish species has a temperature range in which it is most comfortable, and sometimes you may need a heater to maintain this range. Be sure to get all the information you need about the type of fish you want to keep before buying all of your tank gear.
What is an inline aquarium heater?
An inline aquarium heater is a type of heater that is placed into your aquarium filtration system. This type of external heater is usually fixed onto the outflow line so that it heats water as it makes its way back into the tank.
In-line external heaters have their own unique advantages and disadvantages when compared to traditional fully-submersible heaters. 
They are hidden from view and offer precise heating, but they are more expensive and are sensitive to filter failures as well as heater failures. If there is not much water flow moving through the filtration system, your tank won't get heated either.
What size aquarium heater do I need?
Typically you want to get 5 watts per gallon. So with a 10 gallon tank, an informed buyer will get a 50 watt heater.
How many watts per gallon does an aquarium heater use?
Aquarium heaters will put out around three to five watts per gallon of water to maintain a stable temperature. 
This depends on the ambient temperature that will also heat the water passively. A heater in a fish tank in a 95 degrees Fahrenheit room will do less work to maintain the correct temperature than a heater in a 50 degrees Fahrenheit room.
Does my fish tank need an aquarium heater?
The answer depends mainly on the type of fish you keep. Some fish species are fine with cold water, such as goldfish, guppies, and paradise fish.
If you have any type of tropical fish species, you'll need to have a heater to maintain the correct temperature in the tank. Different species have different temperature ranges, so do your research and understand the needs of the fish you want to keep before you purchase them.
Where should a fish tank heater be placed?
This will depend on the type of heater and type of tank you have. Fully submersible heaters should be fully underwater in the tank without touching the gravel. Gravel has a different heat capacity from water, and this temperature difference may crack the protective glass tube, which is one of the quickest ways to kill your fish.
If you have a tall, narrow tank, place the submersible heater horizontally in the bottom third of the tank. For low wide tanks, place the heater at an angle in the center back of the tank. If you have two heaters, place them vertically on the sides of the tank.
Try to keep a large gap between the heater and the back of the tank or any decorations. Fish that get stuck behind a heater can get badly burned. You can also have another hidey-hole for fish so that they don't hide behind the heater.
What are the best aquarium heater brands?
There are many reputable heater manufacturers that make easy to use, reliable aquarium heaters. The best of these include EHEIM, Fluval, Tetra, and Hygger.
Our Top Pick
Our top pick for best aquarium heaters is the Hygge Saltwater Tank Titanium Tube Submersible Pinpoint Aquarium Heater. This electronic heater has all the bells and whistles you need from a high-quality product.
It comes in a range of wattages, so it's suitable for tanks of different sizes. The titanium casing is resistant to saltwater corrosion, making it perfect for both saltwater and freshwater use. It's easy to set with a clear digital display so you can make sure your current temperature is exactly where it needs to be.
The most impressive thing about this product is its accuracy in maintaining the selected temperature. This is essential if you have temperature-sensitive fish, where a lower-quality product may kill them.
Related Buyer's Guide:
Best Aquarium Chiller Reviews – A Guide Before You Buy the Right Chiller for Your Aquarium