Aquarium glass cleaners are a must-have in any fish keeper's toolbox.
Since aquarium glass constantly grows a crop of algae over time, it takes a handy tool to keep the green at bay and your fish easily visible.
Fortunately, there are tons of great tools that help you complete the job quickly and effectively!
Best Aquarium Glass Cleaner and Algae Scrapers
Image
Product
Specs
Price
FL!PPER Flipper Cleaner Float - 2-in-1 Floating Magnetic Aquarium Glass Cleaner

SCRUB, SCRAPE, FLIP &FLOAT: Clean fresh or salt water tanks with the patented dual sided magnetic aquarium glass cleaner that flips from scrubber to scraper without you reaching into the tank.
MAJOR TIME SAVER: The 2-In-1 Magnetic Aquarium Fish Tank Cleaner halves the time for daily cleaning. Ideal aquarium accessories for use on glass tanks up to 6mm (1/4") thickness / 25 gallons
These aquarium cleaning tools clean even the most stubborn Coraline. The Flipper fish tank cleaner is made with rare earth magnets for incredible cleaning strength.
FLOATING FISH TANK ACCESSORIES: The Flipper Floating Aquarium Cleaner is the last aquarium cleaning tool you will ever need for your fresh or salt water tank – it even floats to the top instead of sinking like a roc

Check Latest Price
NEPTONION Magnetic Aquarium Fish Tank Glass Algae Scrapers Glass Cleaner

👏-Bestie of Aquarium : This device helps clean glass by magnetizing from an outside pad to the inner glass cleaner part, quickly and easily cleans away algae growth to make your aquarium stays healthy and looks its best.
💪-Premium Quality : The scrubber side is made of fabric with tiny hooks that scrape off the algae without damaging the glass. Outside, the surface of the handle is covered in felt so it glides smoothly along as you clean.
🙉-Comfortable and Non-slip : it's a long, wide bar shape that's easy to get your fingers around, a large, chunky handle makes it easy to hold on to as you move it around and the non-slip grip comes in really handy, too.
🌊-Floating and easy to storage : It floats so you never have to worry about it sinking to the bottom of the tank and you can retrieve it without getting your hands wet or disturbing any of your aquatic animals or plants.
🙀-Simple and Durable : it's made of waterproof plastic that protects the magnets from rusting. Because of how the fabric is attached, you don't have to worry about it getting sand or substrate stuck in the fibers and scratching the glass while you clean. It's also extremely durable, so it will last a long time.

Check Latest Price
API ALGAE SCRAPER For Acrylic Aquariums 1-Count Container

Quickly removes off anything unsightly from acrylic aquariums
The extra-long handle (18 inches) keeps the hand from getting wet
Extra-strong handle construction and durable scrubbing pad
For use on acrylic aquariums only.
Includes: API Scraper for Acrylic Aquarium, 1 Count

Check Latest Price
Kent Marine pro-Scraper, 24-Inch

Durable construction-handles are made of corrosion resistant fiberglass
Comes prepacked with three different blades to determine which works best for each cleaning job
Blades are interchangeable and replaceable
Model Number: 00977
Age Range Description: All Life Stages

Check Latest Price
Gulfstream Tropical AGU030SM Mag-Float Glass Aquarium Cleaner

Gulfstream tropical mag floating glass aquarium magnet small
This is a revolutionary magnetic aquarium cleaner, unique because it float
Its buoyancy makes it easy to operate and is easily guided around corners without sinking

Check Latest Price
Aqueon Aquarium Algae Cleaning Magnets Glass

Magnet makes it easy to clean the inside of the aquariums from the outside
Scrubber falls straight down if separated from magnet for easy retrieval
Curved pad cleans flat and curved surfaces
Weighted scrubber will not float away
Can be used on glass or acrylic aquariums

Check Latest Price
Jasonwell Magnetic Aquarium Fish Tank Glass Algae Glass Cleaner

Clean algae and scum off of the inside of your aquarium the easy, fun way!
Strong magnetic forces cause the inside cleaning brush to follow the outside handle. Just wipe the outside, and the inside is cleaned!
The inside piece floats, so if it becomes separated from the outside piece, it's easy to retrieve.
Simply drag the no-scratch, felt-lined handle and inside your aquarium, the scrubber follows, cleaning as it goes
Important: Made for common glass fish tank, not for acrylic and low iron glass. Please choose the size by the thickness of your fish tank glass. The larger, the stronger the magnet.

Check Latest Price
Introducing the Best Aquarium Glass Cleaners of 2023
1. FL!PPER Flipper Cleaner Float – 2-in-1 Floating Magnetic Aquarium Glass Cleaner
While we lay out the differences between a razor blade algae scraper and a magnetic cleaner, what if you could have the best of both worlds? That is where the Flipper 2-in-1 Floating Magnetic Cleaner comes in!
The unit has not only a rare earth magnet for scrubbing without force; you also get a razor blade attached to the interior pad. Now you have handy tools for both soft green and hard algae!
Flipper designed three different sizes for aquariums of varying dimensions. The Max version will work even inside a large tank with thick glass, such as aquariums with glass thicker than 1/2 inches.
Keep in mind that the Flipper Nano version does not come with a blade that won't scratch acrylic tanks. Only the Standard and Max versions have the acrylic-friendly scraper blade!
Lastly, the Flipper Cleaner floats! Should one magnet lose contact with the other, such as when moving the pads too fast when hitting a stubborn patch of algae growth, the inner pad will float up to the surface. This way, you won't have to go for a dunk to get your missing pad!
Pros:
Uses both a magnetic scrub pad and a razor blade
Included blade is usable on both acrylic and glass fish tanks
Flipper will float if the inner and outer magnet loses contact with each other
Cons:
Included razor blade is not very durable and needs replacement regularly
Only the Standard and Max sizes come with the acrylic-friendly cleaning blade
2. NEPTONION Magnetic Aquarium Fish Tank Glass Algae Scraper
For a classic magnetic cleaner with a twist, it is hard to beat the Neptonion! It comes in three sizes for small, medium-sized, and larger tanks, with directions on choosing the right size for your particular aquarium.
What makes this magnetic aquarium cleaner so unique is the handle on the exterior algae scrubbing pad. It makes handling the cleaning pads much smoother and more accurate as a result. Tiny fabric hooks on the inner surface gently pull away any stubborn algae. And on the exterior magnetic pad, a felt covering ensures the glass won't be damaged during each pass.
Unlike some of the more specialized tools in this list of the best algae scraper, the Neptonion is not soft enough to be used on acrylic or low-iron glass fish tank. With enough pressure, you could accidentally leave scratch marks on acrylic or low iron glass panel that are permanent.
The Neptonian also happens to float. So if the algae cleaning pads lose contact with each other, the interior pad won't disturb your fish, plants, or substrate by crashing into them!
Pros:
floating algae cleaner when magnetic contact is lost
three different sizes for different sized fish tanks
convenient handle for directing the algae cleaner
Cons:
not rated for use with acrylic aquariums
does not generate enough force for cleaning more stubborn algae types
3. API Algae Scraper for Acrylic Aquariums
An acrylic fish tank has significant advantages over glass aquarium walls. But one thing that makes removing algae more difficult is how soft acrylic aquarium walls are. Fortunately, the API algae scraper here is rated specifically for use with acrylic tanks!
Each API algae scraper also uses an extra-long 18-inch handle. This ensures you won't get your hands wet in all but the largest and deepest of fish tanks.
Keep in mind that there are a few downsides to using the API algae scraper. Since the fibers are softer to glide smoothly and avoid scratching an acrylic panel, they occasionally come loose. A few stray fibers here and there is rarely a big issue, but it is unsightly.
Also, when removing the algae scraper from your aquarium, keep in mind that it has a sponge-like consistency and holds a lot of water. Many uncautious aquarists have ended up with large splashes of water on the floor, not realizing that this algae pad retains some water.
Pros:
soft enough for use on acrylic aquarium panels as well as glass tanks
extra-long 18-inch handle for entire aquarium coverage
Cons:
retains some water when removing the glass cleaner from the fish tank
softer fibers can sometimes come loose during maintenance
4. Kent Marine Pro-Scraper II
Believe it or not, there is much more to an algae scraper blade than just a metal surface. The Kent Marine Pro-Scraper II even comes with three different kinds of algae blades for extra cleaning power!
You get a standard metal blade for use on a glass aquarium as per usual. Also, there is a plastic blade and a felt blade to remove algae from acrylic, plastic, and low-iron glass fish tank walls. All of which are softer and very easy to scratch compared to a glass tank!
The handle of the unit itself is made of fiberglass, which is very durable, corrosion-resistant, and long-lasting. You also have a variety of glass cleaners to choose from, from an extra short length to as much as 36 inches of reach!
I recommend scrapers with blades for fish tank glass that is full of hard to clean algae. Such as in a saltwater aquarium, where tough coralline algae can end up covering everything, and no magnetic cleaner will do the job.
Pros:
comes with several types of scraper blades, including acrylic-safe designs
short to long reach for a fish tank of any size
durable, corrosion-resistant handle
Cons:
blades tend to be flexible and a little difficult to replace at times
smaller scraper covers less surface area and can make maintenance take long
5. Gulfstream Tropical Mag-Float Glass Aquarium Cleaner
The patented Mag-Float Glass Cleaner is one of the most popular and best aquarium glass cleaner designs out there for good reason! The large surface area makes cleaning glass aquariums go by much faster compared to a smaller algae scraper tool. And the force of the magnets is enough for all but the toughest of algae varieties.
All three sizes of the Mag-Float Glass Cleaner also float. This way, should the magnets lose contact during a vigorous scrub, you won't have to get your hands wet to retrieve it. The scrubbing pad also won't fall into and disturb your fish, corals, plants, or substrate.
There are very few downsides to using the Gulfstream aquarium cleaner. One is that the color is not very well chosen. Some aquarists prefer leaving their magnetic glass cleaner inside their glass aquariums off to the side for quick cleaning. But the off-white color of the Gulfstream is visibly distracting from a casual view of one's fish tank.
The magnet is also quite strong, so much so that you may find it difficult to move the magnetic aquarium glass cleaner if the glass is too thin. However, this makes the Gulfstream ideal for larger glass aquariums.
Pros:
an extra-strong magnet for larger glass aquariums and tough algae growth
floats if contact is lost, not disturbing aquarium residents
large surface area to cover ground quickly and efficiently
Cons:
off-white color is visually detracting and too obvious to be left inside a fish tank
magnet is too strong for thinner walls
6. Aqueon Aquarium Algae Cleaning Magnets
Unlike the other glass cleaners here, the Aqueon Algae Cleaning Magnet sinks instead of floats if magnetic contact is lost with the outer pad. At first, this seems like a distinct downside, but it really isn't.
The difference is that the Aqueon aquarium cleaner is bottom-weighted. This way, it simply sinks to the bottom while still facing the glass. So all you need to do is press the outer magnet right against the glass to resume aquarium maintenance! Just be careful with this feature if your aquarium has a sand substrate since sand could get in between the pads and scratch your fish tank glass.
What's more, the magnets used by the Aqueon algae cleaner are very strong, so this is rarely an issue. Strong magnets are also better at removing tough green spot and coralline algae growth.
Lastly, you have cleaning pads rated for standard aquarium glass as well as acrylic cleaning pads that are soft enough to gently remove algae growth from acrylic panels without scratching them!
Pros:
capable of cleaning both glass and acrylic aquarium panels
bottom weighted to keep pads from being lost
strong magnets rarely lose contact and remove even stubborn algae
Cons:
can sometimes trap sand grains in between pads if contact is lost
very strong magnets can be harder to use on thin aquarium walls
7. Jasonwell Magnetic Aquarium Fish Tank Scraper
Are you looking for aquarium glass cleaners that don't force you to choose between blades and pads? The Jasonwell Magnetic Aquarium Scraper is an excellent fusion of these options!
Their system is based on a magnetic scraper, removing algae easily and effectively. However, you also have a scraper blade that retracts or extends as needed for harder types to remove. The blade is also swappable, and Jasonwell includes both a standard metal blade as well as a plastic one if you are wary of scratching.
That said, Jasonwell says their fish tank scraper is designed exclusively for glass fish tanks. So don't use the plastic blade on an acrylic model.
The interior algae scraping pad also floats when magnetic contact is lost with the other pad. So you can avoid disturbing your fish and not deal with wet fingers in the process!
Pros:
floating internal pad for when magnetic contact is lost
plastic and metal scraping blades for tougher algae patches
Cons:
not rated for acrylic aquarium use
magnet is of average strength
Types of Aquarium Glass Cleaners
When shopping for the best aquarium glass cleaner, you should know that there are two main kinds that you will run into. Algae scrapers and magnetic cleaners offer very different experiences and benefits when cleaning algae. So here is what makes each type unique!
Algae Scrapers and Blades
Of the two, the algae scraper is the less advanced. It consists entirely of scraper blades built into a plastic molding. Usually, the scraper attachment has a long handle so you can minimize how much of your arm gets wet when reaching in to clean the aquarium glass.
Many algae scraper blades are actually razor blades, just like the ones you'd buy from a hardware store. Since each metal blade is quite affordable and comes in a box of dozens, it is easy to replace them as they rust from water exposure!
A long-handled algae scraper often means that you can reach every section inside glass aquariums without getting your fingers wet. They are also perfect for reaching algae in corners and other hard-to-reach places.
An algae scraper is also great if you have to remove tougher algae like green spot algae, so long as you are willing to put in a little elbow grease!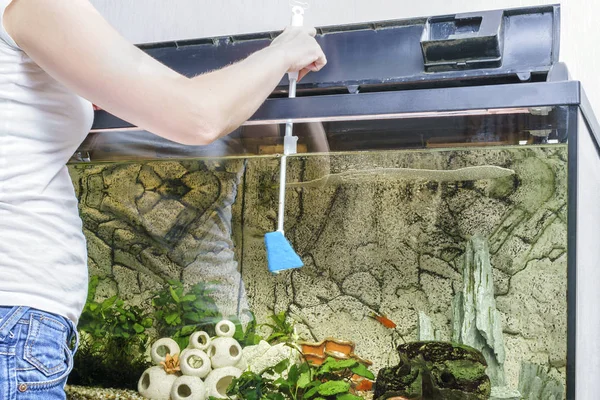 Magnetic Aquarium Cleaners
A magnetic aquarium glass cleaner is slightly different. Instead of using a replaceable scraper blade, the magnetic glass cleaner uses magnetic attractive force between two cleaning pads.
The inside magnet touching your aquarium glass is continually pulled towards the outside magnet. This way, you can use the inner magnet to scrub algae from glass tanks with ease!
Another benefit to using magnetic cleaners is that your hands can be left entirely dry. You don't have to immerse your arm or hand when cleaning, and drips are minimized, making tank glass maintenance a snap to complete!
The downsides are very few for using a magnetic aquarium glass cleaner. The main one is that the rare earth magnets do not always create a lot of force. A magnetic cleaner is best at removing soft green and hair algae. Green spot algae and other more stubbornly attached varieties will usually resist being easily removed.
Also, if you need to switch to cleaning a new glass surface, you may have to get wet to shift the magnetic cleaner over to a new area. They are also not as good at cleaning inside of corners as many algae scrapers with blades.
Many people also use an aquarium glass cleaner to remove the crusted mineral deposits that form along the waterline. If the tap water deposits are too firmly attached, a magnetic cleaner won't be able to do a good job of removing them.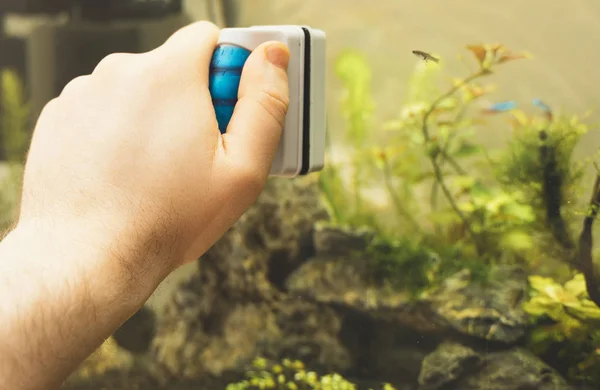 Aquarium Glass Cleaners and Acrylic Tanks
Something every new aquarist should be aware of is the need to buy the right aquarium glass cleaners for the kind of aquarium that they have. Glas and acrylic tanks are the two main models out there, and both handle being maintained by algae scrapers differently.
Glass tanks have hard panels that resist scratches. While glass is fragile in terms of sudden impacts, it is still a very hard substance. So you can use any type of aquarium glass cleaning tool on it, and it won't be damaged.
Acrylic aquariums are made of molded plastic. An acrylic tank is much lighter than glass and very impact-resistant. They also hold heat in better and can be molded into almost any shape.
But the one major downside of acrylic surfaces is that they are softer than glass and are easily scratched. And the most common way acrylic aquariums get scratched is during maintenance. Someone who does not know can take an algae cleaner pad of the wrong type and create a whole mess of scratches in mere minutes.
Worse, these scratches are permanent and will often get filled in by algae growth. Algae that can now no longer be reached from within the scratches. So be very sure that you are using the right tool to clean aquarium acrylic panels!
In Conclusion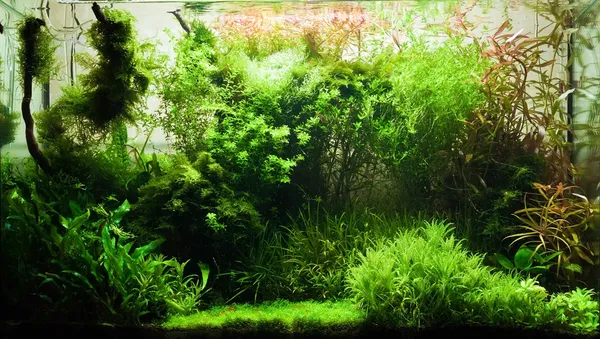 As you've come to see, there are numerous ways to remove most algae growth, no matter how stubborn or hard to reach. Many aquarists have a strong preference one way or another for magnetic algae cleaners or razor-bladed models.
But there are also designs that incorporate the best of both approaches. In this way, you can push or scrape as needed to ensure your fish tank looks beautiful with minimal effort! What did you end up choosing?
Related: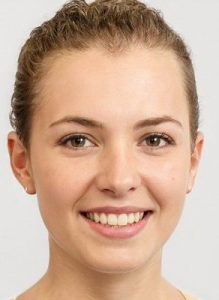 Latest posts by Kelly Stanley
(see all)