For many aquarists buying an aquarium light is as simple as whichever unit comes with the tank hood. But the deeper you get invested in the planted aquarium or reef tank hobby, the more you learn how important the quality of light is.
We are especially lucky these days because the number of brands making extremely affordable, high-quality LED lights is larger than ever before!
With that in mind, let's dive together into the exciting world of aquarium LED lights and see what's right for your system!
Highest-Rated LED Aquarium Lights of 2023 Compared
Image
Product
Features
Price
Finnex Planted+ 24/7 LED KLC Aquarium LED Light, Automated Full Spectrum Fish Tank Light, 30 Inch

True customizable sunrise & Sunset effect W/ Controller
Hands free: simulating fire Red sunrise to blue starry night
7K/multi-color blend for Plant Growth
Sleek designed built in sensor +water resistant LED coating
Four Customizable color channels, Dimmable, weather modes

Check Latest Price
VIPARSPECTRA Timer Control Dimmable 165W LED Aquarium Light Full Spectrum for Grow Coral Reef Marine Fish Tank LPS/SPS

VIPARSPECTRA Timer Control Series V165 LED Aquarium Light is scientifically engineered to keep the balance of the PAR output and coverage.
Internal timer allows you to turn the light on or off automatically and separately. Dimmable feature can be used to adjust two channels brightness individually.
V165 is full spectrum with our proprietary layout, which is contributed by thousands of ReefCentral members, has had years of success.
Suitable for all photosynthetic corals, be sure to acclimate your tank or new corals to the new light by slowing increasing its exposure/intensity to the light.
1 year local warranty plus 30 days satisfaction or return guarantee.

Check Latest Price
Marineland LED Strip Light, For aquariums, With Adjustable Mounting Legs, ML90615, 48-Inch

Age Range Description: All Life Stages
Item Package Length: 130.81 Centimeters
Item Package Width: 13.208 Centimeters
Item Package Weight: 3.4 Pounds

Check Latest Price

Best for Planted Tanks

Finnex FugeRay Planted+ Aquarium LED Light Plus Moonlights, 30-Inch

30" Unibody Ultra Slim High Output Planted LED
TRUE 660nm intensive photosynthesis RED LEDs
(104) 7000k + (56) 660nm RED + (8) Blue Moonlights
20.8 Total Watts
Separate switch controls moonlight on cordless side

Check Latest Price
Koval 156 LED Aquarium Light Hood with Extendable Brackets, 45-Inch to 50-Inch

Bright LEDs with 5 colors, full spectrum LEDs and makes phycophyta vivid
Extendable bracket makes LED light fits different size aquariums in extendable range
High-quality LEDs, can be used at least 50000 hrs
If one of the LEDs is not working by being misused, the others would not be affected (But other cheaper ones will be extinguished lots of LEDs and can't be used any more)
High efficiency, low energy dissipation, save cost, extend LEDs life span

Check Latest Price
Current USA Satellite Freshwater LED Plus Light for Aquarium, 48 to 60-Inch

SUPER BRIGHT- 6500k White LEDs and rich 445Nm Blue LED's come together in an amazingly sleek Fixture that's dialed in for freshwater Aquatics like nothing before
MULTIPLE MODES- With modes that dim periodically to create cloud cover effects, storm modes that will blow you away complete with lightning strikes and innovative evening modes that include lunar and dusk – it's sure to add excitement and intrigue to any aquarium.
EASY INSTALLATION- Sliding docking legs allow quick and easy adjustments for a wide variety of installations. This system also makes adding multiple fixtures a snap.
REALISTIC EFFECTS- Beyond the world of white and blue light, the Satellite LED also features effects that mimic real-world aquatic conditions.
30 DAY GUARANTEE-We are so sure you'll be happy with your purchase that we offer a "30-Day Money-Back Guarantee" to ensure customer satisfaction of our Current USA products. If for any reason you wish to discontinue using the products, we will promptly issue a refund.

Check Latest Price
Hygger Aquarium Programmable LED Light

🐟4 Modes: ①Default Mode. L: All-optical + Blue light(can change); Brightness is simulated sunrise to sunset + night effect. ②DIY Mode. L1-L6: All-optical; L7-L8:Blue. The brightness(10 kinds) and time (any time) of each stage(8 stages in total) can be set by yourself. ③Gradient Mode. The brightness time cannot be set. Cycle colors-dark blue, green, purple, light blue, yellow, red. ④All-day All-optical Mode.Can fine-tune the color temperature of RGB light, can not set the brightness and time.
🐠New Upgrade: Lamp beads IP68 waterproof, and easy to clean and wipe. The separable adapter, even if it is damaged, no need to replace the light to avoid waste. Power off memory function, after the power is restored, the local time of the light will default to 12 noon, other settings remain unchanged, and then continue to run. The extendable bending bracket can be adjusted in length and easy to install, and can be applied to various freshwater tanks.
🐡High-quality Light: the color of the fish tank light is all-optical, dark blue, green, purple, light blue, yellow, red, dark red (sign of the start color cycle mode). The light is soft, the color rendering index is close to natural light, up to 89%, protecting eyes and fish, to refuse the discomfort caused by stroboscopic for fish and viewers. Using high-quality 2835 + 5050 model lamp beads, long service life, at least 50,000 hours. And there are 10 kinds of light brightness can be adjusted.
🌿LCD Display Operation: There are four function keys, mode setting / up / down / light setting keys. The main screen mainly displays the real-time local time (optional 12 hours/24 hours), the time is accurate to the second. The following two small screens are program timers, which used to set the start and end time of day and night in mode.
🍂Technical Specifications: Aluminum alloy plastic case. ①LIGHT SIZE:45*10*2.2cm. ②APPLICATION: 18~24inch. ③INPUT VOTAGE: AC100-240V. ④OUTPUT VOTAGE:DC15V. ⑥LED QUANTITY:77PCS. ⑦RENDERING INDEX:89. ⑧LUMENS:1290. ⑨Color temp:6500-10000K. ⑩POWER CORD:4.9ft.

Check Latest Price

Best for Reef Tanks

Current USA Orbit Marine LED Aquarium Light

BRIGHTER, MORE COLORS- Your aquarium is full of spectacular colors, why not bring them all to life. Introducing the new Orbit Marine LED. Now packed with even more ultra-bright LEDs in a far wider color spectrum, it will make your corals and fish look even more spectacular. And it's now in the LOOP, providing both light and pump control, taking your aquarium experience to a whole new level.
SUPER COLOR- Producing eye-popping color rendition and brilliant shimmer effects, the Orbit Marine produces a limitless number of color spectrums. A higher ratio of actinic blue spectrum LEDs balanced with full spectrum creates the perfect color combination for fish, inverts, live rock and corals to fluoresce and look amazing. Wide angle dispersion lenses evenly spread light over your entire tank while ensuring superior color blending.
MULTIPLE MODES- With modes that dim periodically to create cloud cover effects, storm modes that will blow you away complete with lightning strikes and innovative evening modes that include lunar and dusk – it's sure to add excitement and intrigue to any aquarium.
EASY INSTALLATION- Extendable brakets allows this LED light to fit most aquairum fish tanks 18-24 inches wide.
REALISTIC EFFECTS- From start-up to sundown, the Orbit Marine gradually mimics the effect of a slow sunrise, bright daylight, dimming sunset and moonlight. Built-in lighting programs create a 24-hour natural biorhythmic lighting cycle, while on-demand dynamic weather effects gently roll clouds across your reef.
3 flow modes: WAVE, SURGE, STREAM

Check Latest Price
Beamswork DA 80 FSPEC LED Aquarium Light Pent Freshwater 0.50W (80cm - 30")

Lumen: 4000
LEDs: 80x 0.50W
Config: 51x 10000K, 16x Actinic 460nm, 7x Red 620nm, 6x Green 520nm
Timer Ready, 2 Mode Day / Night
Suitable for freshwater, plants, cichlid

Check Latest Price
Lominie Full Spectrum Aquarium Light

High Power Output: Super bright 120w COB integrated chips with 60pcs 3w leds, custom-made PMMA optical lens, equally-distributed illumination and strong penetrability, no light spot.
Full Spectrum Color: Range from UV to red, the spectrum has been designed carefully to deliver the most photosynthetically useful light to Coral after extensive testing, 100% usable and efficient for your reef.
Efficient cooling system: Aluminum fins passive cooling and PWM technology to control fan's speed and noise, self-monitoring function, noise level is 29db, silent operation.
Dimmer knobs: Manual knob to dim 4 channels separately and customize the spectrum to your liking. Rustproof bendable gooseneck with 90 degree adapter, the lamp can be installed on rimless tank. The clamp is wide enough for 1.0inch thick glass, plastic screws won't scratch the tank glass.
Lastest DMX Technology: (need to buy Wifi Controller separately)One Wifi Controller can control multiple lights together on iPhone or Android phone, 4 programmable channels, timing and dimming. Thunder storm, moonlight, sunrise, sunset, cloud simulation.

Check Latest Price
What Makes LED Lighting for Aquariums Different?
The most popular types of aquarium light for fish tanks are fluorescent and LED aquarium lighting.
Fluorescent fixtures use mercury vapor and a ballast, running electricity through the tube to create a glowing bar of light.
The benefit is that they are more efficient and run cooler than incandescent bulbs. But they are larger, and the ballast takes up even more room.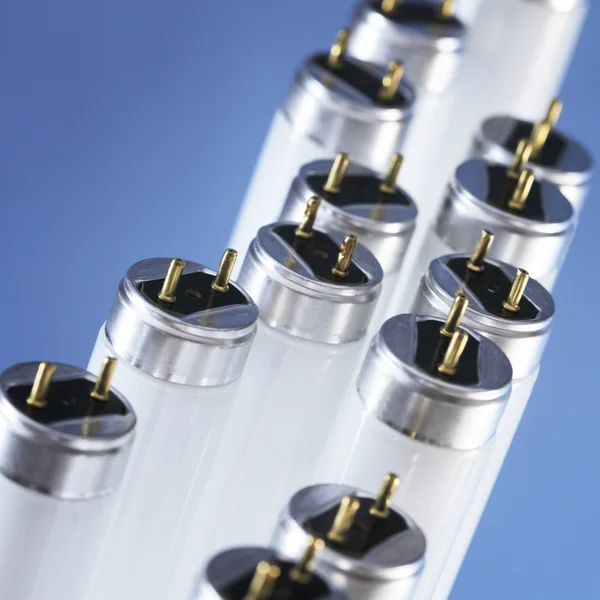 Using LED lighting for an aquarium light offers several benefits. Each unit is actually composed of dozens to hundreds of individual LED bulbs.
Each LED (light-emitting diode) bulb is a semiconductor that emits light when a current is passed through it. Unlike fluorescent lighting, they are tiny and also run even cooler.
Aquarium LED light fixtures also last longer, typically between 25,000 and 50,000 hours of runtime. This adds up to nearly 7 years of continuous run time for 12 hours per day!
What Are the Benefits When Using LED Lights for Aquariums?
Besides running cooler and more efficiently, there are several benefits to using LEDs as aquarium light! For starters, each LED bulb burns out individually, rather than an entire set or fixture burning out all at once.
This means you can replace individual bulbs over time if you're good with tools, extending the lifespan of your aquarium LED light infinitely.
Each LED aquarium lighting unit is also much more easily customized for specific purposes. This is because they are built one LED at a time. If you have plants that need a little more red, you can find LED aquarium lighting that meets that need.
If you prefer stronger actinic lighting when looking at your tank – but also want regular white light for general photosynthesis, many aquarium LED light options can toggle between both outputs with ease!
There are no heavy metals like mercury are used in their construction, lessening their environmental impact compared to compact fluorescents and metal halide lighting.
LED lighting fixtures are also not fragile like fluorescent tubes, which break if dropped and often crack if splashed when running hot.
Things to Think About Before Buying Aquarium LED Lights
What Is the Main Reason You Are Buying an Aquarium Light?
This might sound a bit silly, but the reason you are buying an aquarium light actually matters a lot. There are many features that plant and coral LED lights have that you might not want to pay for if you are lighting up a fish-only aquarium.
And vice versa; the needs of a fish-only tank are mostly aesthetic in nature. You can use dim LED aquarium lights or lights that output unique colors so long as they make the tank look as good as you wish!
What Are the Needs of Your Aquarium Animals and Plants?
If you are buying an aquarium light to provide radiation for plants or coral, you'll need to be sure that you're buying the right intensity and color temperature. If you keep mostly low light plants, a light that's higher in intensity might still do them good and boost their growth.
However, if their growth can't keep pace with available nutrients, then you'll see an immediate boost in algal growth as well.
LEDs and Photosynthetically Active Radiation
Photosynthetically active radiation (PAR) is what's most important when providing light for increasing plant growth. As you likely know, plants use sunlight to crack apart water and carbon dioxide, creating simple sugars that they use for food. However, not all light is created equally.
PAR is mostly in the green-yellow-orange spectrum, similar to the color temperature output by LED lights made for planted tanks (5600-7000K).
Incandescent lighting, which is used in many older aquarium hoods, has a warmer temperature of around 3-5000K, while fluorescent lights can go anywhere from under to well over this range, as high as 10,000K (actinic lighting).
Many of the best aquarium light fixtures for coral mix in actinic light bulbs, which have the effect of brightening the colors of coral. Many species have fluorescent pigments that become positively vibrant with the right aquarium lighting.
Many species are also photosynthetically sensitive to actinic blue LEDs, though precisely how much is required is still a topic of intense debate.
Some aquarists find that providing purely actinic lighting or standard 5600K lighting is all that's required for healthy coral growth, depending on the species. Others find that a mixture of the two light temperatures is best.
What Are the Dimensions of Your Tank?
The length of your tank only matters so much as to make sure that your new aquarium light reaches across without too much overlap. But the width and depth of your tank matter even more.
A bright light is very important if you have a deeper tank. Shallower tanks, such as a 20-gallon long (12 inches high), need less light intensity than a tank that's taller, such as a standard 20-gallon tank (16 inches).
That extra 30% of height translates to needing as much extra light intensity if you want the same amount of light to reach the bottom.
If you're growing corals, you can always move them closer to the light source. But if you grow carpeting plants like Dwarf Baby Tears or Monte Carlo, then there is no substitute for having an LED light that's strong enough to light up the bottom properly!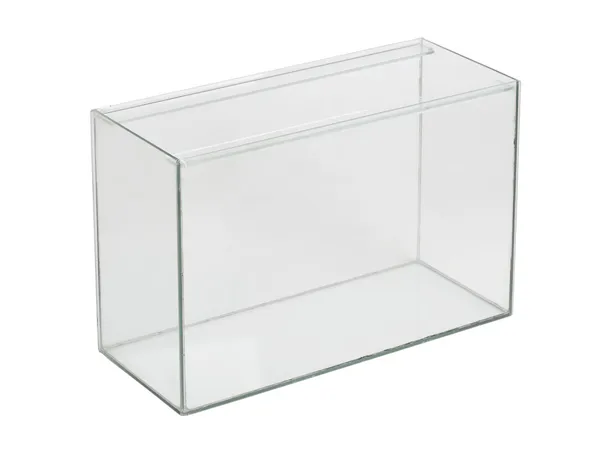 When buying a wide tank, such as a 40-gallon breeder or standard 75-gallon aquarium (both 18 inches wide), the light may be intense enough directly under the bulb or strip. But you will likely see significant falloff along the sides of the tank.
Depending on the fixture's design, you may see as much as a 50% decrease in intensity along the sides of a wider fish tank versus directly under the fixture.
In this case, buying two fixtures will give you better coverage along the sides, ensuring all of your corals and plants grow naturally! Some aquarium LED light models are designed to spread their output fully across the bottom, but this usually comes at the cost of total light intensity.
What Features Are Included With Each LED Light Option?
Besides the LED lights themselves, you should also think about what features each aquarium light has to offer. Are you looking for water resistance?
Some of the units here are only protected via a plastic or glass guard, while others are fully waterproof and can even be briefly submerged.
Some use LED bulbs with color temperatures maximized for coral viewing pleasure or plant photosynthesis. Are you looking for a remote control to operate the unit? Weather simulations, timers, and so on…
There are many additional features that will influence your buying decision of any aquarium lighting. Having a list of "must-haves" for your fish tank light can make shopping easier since you can then make informed decisions on which "nice-to-haves" are worth spending a little more on!
What Sort of Budget Do You Have to Work With?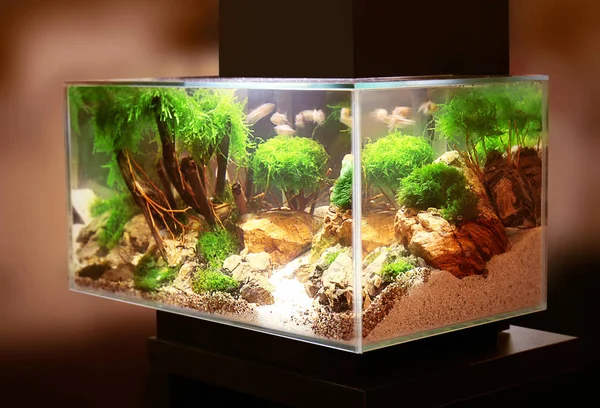 Lastly, you should carefully consider the budget you have to work with. Some of the most affordable LED lights don't have the customizable controls and other features that pricier models do.
You'll likely have to pay extra for the top-shelf features. But if you've invested thousands of dollars into a mature coral reef tank, there's little reason not to provide them with the best quality lighting!
10 Best LED Lights for Aquariums Reviewed
1. Finnex Planted+ 24/7 LED KLC Aquarium LED Light
The Finnex Planted+ 24/7 LED KLC Aquarium Light is a high-quality model from a high-quality brand. Finnex makes some of the best LED aquarium lighting for freshwater and marine reef tanks.
This particular light fixture has a color temperature of 7000K, which is noticeably cooler thanks to the added blue LEDs within the fixture. Yet, it's still fully within the photosynthetically active range for freshwater plant life.
Another feature we like about the Finnex Planted+ is the upgraded remote.
Using AAA batteries instead of the usual watch battery, it can program the light to create an authentic day-night cycle, with warm sunrise, intense noon colors, a redder sunset, and finally starry night blue moonlight. You also have the option of programming in thunderstorms and cloudy days for variety!
The Finnex Planted+ is also water-resistant, so splashes of water won't short circuit the LED light. Given how flexible the programming is and the intensity of the bulbs, this unit can be used for low, medium light plants, and high light plants alike!
Main Benefits:
Remote control allows for full control of weather, light intensity, and timer
7000K color temperature good for plant growth but slightly cooler than traditional 5600K
Useful for both low and high light planted aquariums
water resistant
2. VIPARSPECTRA LED Full Spectrum Aquarium Light
If you're looking for an option for compact reef tanks, the VIPARSPECTRA is one of the best aquarium LED lighting options!
The mixture of actinic, blue, and white LED light, with a little red and green for balance, gives it a pleasing output alongside good light penetration.
The actinic bulbs highlight the fluorescent colors in corals and anemones, while the whites provide plenty of full-spectrum output for photosynthesis.
Unlike many of the LED lights here, the VIPARSPECTA is meant to be attached to a ceiling fixture and hung directly above reef tanks. Light output, intensity, and duration can be controlled via dedicated controls on the unit as well as with the included remote control.
This LED lighting source is designed with high light corals in mind. When positioned 8 inches from the surface, the PAR rating is up to 1000 6 inches below the surface, directly under the light, dropping to 500 along the sides.
Even at its lowest intensity, 24 inches underwater, you're looking at 100-325, which is excellent for a wide range of low and medium-light corals!
Main Benefits:
High intensity LED lights for corals of all kinds
Compact design for nano and pico reef tanks
Balanced actinic and full-spectrum LED light arrangement
Hangs over tank rather than covering the lid
3. MarineLand Energy Efficient LED Strip Light
Sometimes fish tank owners don't want a lot of extra features like programmable remote controls or weather settings. If you're looking for an LED aquarium lighting source that offers simple controls and quality output, the MarineLand Energy Efficient LED Strip Light is a good match.
The color temperature is an attractive 6000K thanks to the collection of white LED lights balanced by the occasional blue LED light. You have the option of setting the unit to a Lunar setting, providing pure blue light for a moonlight-like output!
MarineLand rates this light fixture as 20% brighter than their previous model. It uses adjustable mounting legs to sit securely along the lip of your aquarium.
Compared to incandescent and fluorescent lighting, this light fixture can save you up to 25% yearly in electricity costs thanks to its low energy, cool-running LED light bulbs.
Main Benefits:
Beautiful 6000K color temperature for coral and plant growth
Blue light output for Lunar moonlight look
Simple, direct controls
4. Finnex FugeRay Planted+ Aquarium LED Light Plus Moonlights
The Finnex FugeRay Planted+ is a current-generation model by the company. They have taken the bulk out of classic aquarium LED lighting and exchanged it for a slim, sleek style without sacrificing quality in any way!
Splash guards protect the unit from stray drops of water, and the machined aluminum construction both reduces weight and transports heat away from the bulbs.
Unlike the Finnex Planted+ 24/7, the Finnex FugeRay includes their True Red 660 nanometer bulbs. According to Finnex, this wavelength of light is one of the most efficient for photosynthesis and also adds a lovely warm balance to the white and blue bulbs of the unit.
The FugeRay Planted+ has a lifespan of 40,000+ hours and has an ideal 120-degree spread.
Within that arc, there is very little fall off of intensity from the center to the corners, making it ideal for growing aquatic plants that need intense light across the bottom like Dwarf Baby Tears.
Main Benefits:
True Red 660 nm bulbs are ideal for both photosynthesis and viewing
Lightweight yet powerful enough for all planted aquariums
Full 120 degrees of light coverage with little falloff along the edges
5. Koval White and Blue LED Aquarium Lighting
The 45-50 inch Koval aquarium LED light has 156 total LED bulbs scattered across 5 different colors. Unlike many of the other light fixtures designed primarily for coral or plant growth, the Koval also includes more pink and green for a warmer look.
Rated up to 50,000 hours in run time, this unit is straightforward to set up, requiring you only to attach the mounting brackets to the rin of your fish tank and power the unit on.
The power line does have an attachment for an in-line timer if you wish to attach one. The Koval line covers aquariums ranging from 24 to 50 inches in length (15 to 75 gallons).
Main Benefits:
Simple and intuitive setup
50,000 hours of runtime
Warmer look thanks to the green and pink LED light bulbs
6. Current USA Satellite Freshwater LED Plus Aquarium Light
The Current USA Satellite Freshwater LED is another model optimized for growing aquatic plants. The razor-thin, minimalistic design helps it take up little visual real estate on the tank while still providing plenty of LED lighting for ideal growth.
Like the Finnex Planted+ fish tank light, the Current USA Satellite freshwater LED light also has a Dynamic Weather mode that simulates thunderstorms, gradual sunrises, cloudy days, and more for true variable lighting conditions!
The color temperature ranges from 5500-10,000K, depending on the colors selected on the remote control. However, at the full regular output, the color temperature is 6500K!
In terms of overall intensity, this LED light fixture is better suited to medium light plants unless your tank is shallower than normal.
Main Benefits:
Slim, minimalist profile
Dynamic Weather mode simulates clouds, storms, and sunrise/sunset
Variable color temperature (5500-10,000K)
7. Hygger Programmable Full Spectrum Aquarium LED Light
hygger is a newer player in the world of aquarium LED lighting. Their products are affordable while still offering the customizability and quality construction of larger name brands like Finnex.
Their Programmable Full Spectrum aquarium light lives up to its name, offering 10 stages of brightness (10-100%) and 8 programmable times for the light to output light at a given brightness.
The Hygger LED aquarium light is also tested and rated as IP68 waterproof, meaning it can be submerged more than a meter without being damaged for short periods.
While it offers an excellent full-spectrum output for planted tanks, you can also set it to create green, pink, red, and other light tones if desired!
Main Benefits:
Rated IP68 waterproof in case accidentally dropped into tank and completely protected from splashes
Fully programmable for both light duration and intensity
Light can be programmed to output other colors, including green, pink, and red
8. Current USA Orbit Marine LED Aquarium Light
The Current USA Orbit Marine is a high-end aquarium lighting option for saltwater tanks. Silent and cool running, this model provides more blue and actinic lighting for maximizing the viewing pleasure of marine fish and corals.
A shimmer effect simulates the look of metal halide lighting above the surface, while full-spectrum white and RGB lighting provides the right colors for coral photosynthesis.
The included controller allows you to customize the time of day, color output, and intensity.
You can also set it up to operate Current USA's line of wave pumps, providing circulation and lighting at a fixed time alongside the light, making it ideal for tanks that have corals that demand both current and strong lights, such as Acropora!
Main Benefits:
Actinic, white, and blue LEDs for marine viewing
Remote controls not only light output but also Current USA wavemakers
Shimmer effect built-in
9. BeamsWork DA LED Aquarium Light Pent Freshwater
If you're looking to choose LED lights that are simple and effective, this model by BeamsWork is one of the best. The 30-inch lighting system has 80 LED bulbs in total, with a color temperature of 6500K that is perfect for growing plants in freshwater aquariums.
BeamsWork doesn't include a programmable timer, but it can be purchased separately, or one from another brand can be added onto the power cable.
The available modes are daylight and moonlight using its 51 blue actinic bulbs. Overall, it is lightweight, effective, and an excellent value!
Main Benefits:
Color temperature of 6500K is ideal for plant growth and viewing
80 LED bulbs in total can be attached to a programmable timer (not included)
Daylight and Moonlight modes
10. Lominie Full Spectrum Aquarium Light
Another way of attaching a fish tank light to the setup is by clipping the light directly onto the frame. The Lominie Full Spectrum Aquarium Light bends upward and then down, similar to a contemporary desk lamp in design!
While it is the most unique in terms of style, it's just as effective at growing plants and corals housed in cubic or cylindrical aquariums. The collection of RGB, cool white, blue, and actinic LED bulbs provide the right spectrum for photosynthesis.
And while it does run hot built-in fans cool the unit as it runs. At 29 dB, the fans are quiet enough even for office and bedroom spaces.
The light levels outputted by the Lominie lighting system are intense, with PAR readings given by the company so you can decide for yourself if it meets the needs of your high light plants and corals!
Main Benefits:
Unique clip-on design with curling metal neck and round fixture
Ideal spectrum for plant and coral photosynthesis
Lominie includes PAR ratings for light distance
Our Top Picks for the Best Aquarium LED Lights
There is something to love about each of the best LED aquarium lighting options I've laid out here. From customizable weather to compactness, there is something to offer both freshwater and marine enthusiasts.
I believe that breaking this category up into the best LED lighting for a freshwater fish tank and the best option for reef tanks is the best way to go since they have very different needs.
The Best LED Aquarium Light for Planted Tanks
From the list above, the best LED aquarium lighting is the Finnex FugeRay Planted+ Aquarium LED Light! It has all of the best features of the Planted+ 24/7 while adding the True Red 660 nanometer for additional plant photosynthesis.
This unit is also slimmer in profile, taking up less visual real estate.
If you prefer having the ability to customize light intensity and duration through the use of a remote control, the Finnex Planted+ 24/7 LED allows you to do so. It even simulates thunderstorms, cloudy days, sunrises, sunsets, and other changes in weather!
The Best LED Aquarium Light for Reef Tanks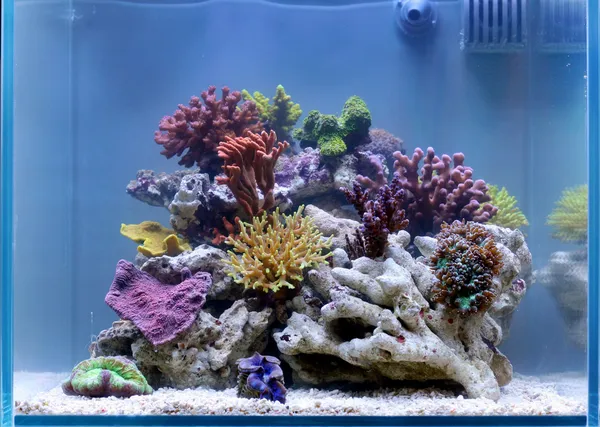 In terms of light quality, intensity, and customizability, it is hard to match the Current USA Orbit Marine LED Aquarium Light!
The color temperature is bluer thanks to the actinic output, bringing out the brilliant colors in corals and sea anemones but still providing enough white lighting for photosynthesis.
The remote control and light fixture can also be paired with Current USA's line of wavemakers, providing a single control unit for both light and water flow! For more details read our review of this lighting system here.
For nano and pico reef tanks, the VIPARSPECTRA LED Full Spectrum Aquarium Light and Lominie Full Spectrum Aquarium Light are my favorites.
Both use slightly different mounting systems that allow them to hang from above.
The VIPARSPECTRA offers more blue, while the Lominie is more like traditional sunlight in color. But both offer the right spectrum and light intensity for medium to high light corals in smaller fish tanks!
For more reef tank light selections, check out our reef tank LED lighting guide.
LED Light Fish Tank Frequently Asked Questions
Are LEDs Good for Plants When They're Growing?
Absolutely! While they run cooler than fluorescent and incandescent lights, LED fixtures offer bright lighting for plants that's both cool running and power efficient!
Does the LED Light Spectrum Affect the Growth of Plants?
Yes, the light spectrum is very important when choosing an aquarium light. LED lighting that's too warm (below 5600K) or too cool (greater than 7000K) is less efficient for photosynthesis to occur and can cause plant growth to slow or stall out entirely, no matter how bright your aquarium light is.
The same is also true for coral in reef tanks, except that they can use light as cool as 10,000K+ (actinic lighting) for photosynthesis.
Will My Aquarium Plants Grow Under LED Lights?
Yes, plants grow as readily under LED lighting systems as they do under fluorescent lights or even the sun.
Are LEDs Really Better than Fluorescent Tubes?
LED lighting offers several advantages compared to fluorescent light tubes. Fluorescents run hotter, take up a lot more space, don't last as long, and are very easy to break.
LED lighting systems use less power, are cool to the touch, can be as slim as a few inches across and a few millimeters thick, and are typically very durable.
How Long do LED Aquarium Lights Last?
An Aquarium LED (light-emitting diode) will last anywhere from 25,000 to 50,000 hours of continuous run-time. That's up to 7 years of usage if run for 12 hours per day.
Many aquarium LED light manufacturers give ratings for their bulbs. And since the diodes burn out individually, they can be replaced one at a time!
Do LED Aquarium Lights Cause Algae?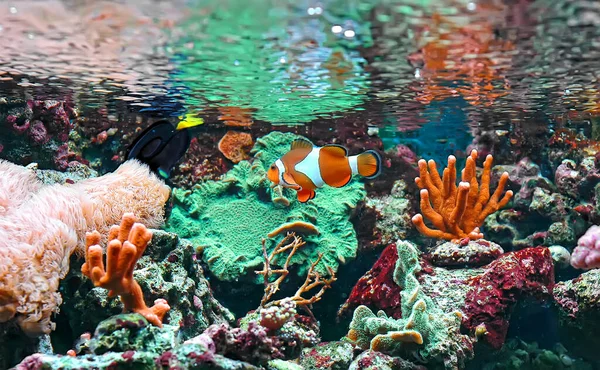 Any light source can cause algae to grow since algae is a plant. So providing the right intensity is important. In fact, LED aquarium lights are less likely to cause algae so long as they provide a proper spectrum of light for your plants or corals to grow.
Healthy plants and corals will out-compete algae for nutrients. On the other hand, poor lighting will make plants and corals unhealthy, which can cause algae problems to arise.
Frequently Asked Questions: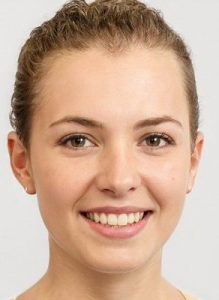 Latest posts by Kelly Stanley
(see all)