If you're an aquarium owner who values the comfort of your fish tank's aquatic inhabitants above anything else in the world, it's critical to ensure that you keep the temperature at an optimal level. 
Many external forces can elevate the temperature of a tank above suitable standards. 
No matter what style of aquarium you own, it's essential to consider the water temperature if you value the health of your fish, turtles, crabs, plant, or other types of aquarium life.
Our buyer's guide is a compilation of the best aquarium chillers that aquarium fish keepers use during hot summer temperatures and heat waves.
Best Aquarium Chiller Reviews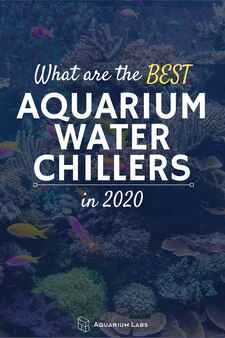 If you're ready to buy a new water chiller, we've compiled a collection of reviews of the top-performing models currently available on the market. 
Our in-depth reviews of each water chiller will provide you with all the information you could want to purchase the best tank chiller for any given situation. We'll look at all sides of the story – the good, the bad, the ugly.
Do you have a burning question about aquarium chillers? Outside of the general features and capabilities of each aquarium chiller, we'll also explore the advantages and disadvantages of each line item in question below. 
Get in front of any hassles in your shopping by perusing the options below. We can help figure out the right solution for you.
| Image | Best Aquarium Chillers | Specs | Price |
| --- | --- | --- | --- |
| | Active Aqua AACH10HP Water Chiller Cooling System | | Check Latest Price |
| | IceProbe Thermoelectric Aquarium Chiller - 4 in. x 4 3/4 in. x 7 1/2 in. | | Check Latest Price |
| | JBJ Aquarium Arctica Titanium Chiller | | Check Latest Price |
| | Hamilton Technology Aqua Euro Max Aquarium Chiller | | Check Latest Price |
| | Coralife Energy Savers ACL36060 Chiller | | Check Latest Price |
| | Hydrofarm Active Aqua Chiller | | Check Latest Price |
| | Teco Tank TK-500 Aquarium Chiller | | Check Latest Price |
1. Active Aqua Chiller  (A Simple-to-Use Chiller)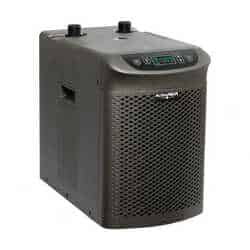 Note: Editor's Note: this unit is currently not available on Amazon.
If you're searching for an easy-to-use aquarium chiller that offers advanced mechanisms and simplicity, it's hard to go wrong with the Active Aqua Chiller in hand. 
Active Aqua uses a titanium evaporator that can offer a solution in the fight against corrosion. This is an aquarium chiller that is compatible with any kind of aquarium water, whether it's fresh or salty.
Active Aqua Chiller can be used for tanks that have a wide variety of water capabilities and size capacities, though it is not suitable for extremely large tanks. The largest recommended capacity is 40 gallons. In terms of flow rate, you can expect up to 396 GPH.
It has a 'user-friendly' control panel that allows you to control most of the core functionality of the water chiller. If you're new to owning an aquarium, and you want to simplify the process of the temperature control system, it's hard to go wrong with this excellent selection.
In addition to its sleek design and functionality, it won't emit large amounts of noise. It's the ultimate style for a person who doesn't want a lot of noise polluting their home.
Pros
Extremely easy process which a new user can adapt
Strong flow rate – over 390 GPH
Made by a company with a strong reputation in the industry
Corrosive-resistant metal is used to construct the evaporator
Can fit on a broad range of tank sizes
Makes minimal noise
Cons
Not overly strong
May be missing an advanced feature or two when compared with some others
2. IceProbe Thermoelectric Aquarium Chiller (A Compact Chiller)
If you have a small aquarium that requires a compact aquarium chiller, you may want to consider the IceProbe Thermoelectric Aquarium Chiller. The chiller is perfect for extremely small aquariums. You can even use it with plastic tanks. You will have to plug this chiller into a power source and it will use thermoelectric capabilities to cool using traditional electricity.
The IceProbe size is best for small tanks and is not suitable for aquariums that contain over 40 gallons of water. The smaller your tank size is, the more cooling energy it will provide. While it will only cool 40-gallon aquariums by 1F to 2F, you'll be able to get up to 8F of cooling energy if you have a tank that is ten gallons or less.
The IceProbe is relatively small and won't emit a lot of fan noise. If you're looking for a chiller that won't impact the ambiance of your living room, household, office, or another setting, this is an excellent option.
The unit is compact and includes a probe and cord. You won't be able to turn it on or off without removing the power source, but you can use a separate temperature control mechanism. 
Lastly, if you purchase this chiller, you'll have a year-long warranty that will protect you from manufacturing defects; this is an excellent way to protect your investment.
Pros
Controls aquarium temperature for small tank sizes
Can fit in compact cabinet spaces – best aquarium chiller for a small cabinet
Works with a freshwater and saltwater aquarium
Excellent for compact aquariums
Uses a traditional power source
Thermoelectric capabilities
Includes a one-year warranty
Cons
No advanced mechanisms
Not suitable for a large size tank
Can't turn it on and off without removing the source
3. JBJ Aquarium Arctica Titanium (Well-Regarded Chiller Brand)
The JBJ Aquarium Arctica Titanium chiller is another world-class chiller that's produced by one of the biggest names in the industry. The design of this particular chiller is built to last the test of time. You'll benefit from corrosion-resistant titanium that is usable in both freshwater and saltwater.
So, how does this aquarium chiller process work? This JBJ chiller comes with a host of premium features that you won't find in many other brands. The temperature controller is easily accessible on the surface of the chiller.
If there is an electricity outage, you'll give thanks to the smart chip technology that will automatically restore the temperature control mechanism and temperature levels to their original range. It isn't necessary to reprogram the temperature range if you experience a loss of operation during a power outage.
Also, you can use this chiller for a larger tank. In many cases, people have used the JBJ titanium chiller on a 200-gallon tank.
Lastly, it's easy to install, and it can provide a cooling effect without using a lot of energy.
Pros
Great chiller for aquarium name 'brand'
Built using strong, anti-corrosion parts for a long life chiller
Versatile temperature controller
Still recovers after a power outage – smart chip acts as a sensor for lack of power
Easy maintenance
Doesn't overly use energy
Cons
Quite louder than other products
Performance can diminish over time
4. Hamilton Technology Aqua Euro Max
This Hamilton Technology Aqua Euro Max chiller remains among the most popular aquarium chillers on our list. It comes with a range of premium features that you won't find in many other chillers. Owners will benefit from the capacity of a 1/10 HP heater operation.
Inside of the chiller, there is a unique anti-freezing operation that ensures the heat exchanger won't freeze. If you're searching for an aquarium chiller that will provide you with an eco-friendly refrigerant, this Hamilton chiller includes a DuPont ozone-friendly refrigerant (good for the environment). You won't have to fear the refrigerant vapor here.
There is a digital temperature display that allows you to effortlessly control the temperature. Also, if the energy runs out, the heat exchanger will simply return to its latest temperature once power is restored. The titanium heat exchanger is also corrosion-resistant, which makes it excellent for both freshwater and saltwater aquariums.
Pros
1/10 HP – plenty of energy for a chiller aquarium
Anti-freeze system protects the heat exchanger (heat sink) from freezing
Includes a titanium heat exchanger (heat sink) is resistant to corrosion
Backed by a strong name in the industry
Large temperature range
Works for saltwater and freshwater aquariums
Ozone-friendly refrigerant – good for the environment
Electronic display
Cons
Some users complain that the sensors aren't accurate enough
Some owners complain that the chiller produces a lot of external heating
5. Coralife Chillers (Long-Standing Chiller)
If you're looking for a chiller that has a reputation for success, the Coralife is one of the best items on the market. This is a chiller that is produced by one of the most reputable manufacturers in the aquarium industry. It is another 1/10 HP system.
It also happens to be extremely easy to use and clean. It also has a nice look; you can access all the core controls via an LED display on the side of the chiller.
If you're looking for something that can track both temperature change and humidity, this is an excellent choice. You can also remove the air filter to clean it periodically, which means you don't need to worry about losing efficiency over time. The air filter design is also geared toward easy cleaning.
The rear of the Coralife is constructed using velcro, which makes it one of the easiest aquarium chillers on our list in terms of mobility.
Pros
Produced by one of the leading manufacturers in the aquarium chiller industry (Coralife)
Tracks temperature and humidity
1/10 HP system
Includes an LED display
Easy maintenance and efficiency – remove air filter without any issues
Easy installation and cleaning
Cons
Check out the price – more expensive than other ones
Some owners claim you must order extra parts to get the most from the filter
6. Hydrofarm Active Aqua Chiller
If you're searching for a heavy-duty aquarium chiller with a large fridge capacity, the Hydrofarm is one of your best choices. You'll find it comes packed with a 1/4 HP motor, which means it can effectively regulate a large aquarium; you can use this with aquariums that are up to 80 gallons.
You'll have access to a flow rate of up to 660 GPH. The front has a digital control panel that prioritizes simplicity. Inside is a heavy-duty, titanium evaporator that will help control the heating and fight against corrosion. It can be used with saltwater and freshwater.
This product is suitable for much more than just traditional aquariums; it works for a number of chilling needs. Whether you have a reservoir, or you're one of the many reef aquarists who use reef tanks, the strength in the Hydrofarm handles all of your refrigeration needs.
Pros
A strong chiller with a rating that boasts a good flow rate – up to 660 GPH
1/4 HP system
Backed by a good name in the industry
Suitable for a number of types (aquarium use), including reservoirs, reef tanks, nutrient solution, and more
Works with tanks that are up to 80 gallons
Larger refrigeration capacity
Cons
Some owners complain that the sensor will not last the life of the Hydrofarm
Some owners complain the pack (box) comes packed upside down, but this may be a shipping and handling issue
7. Teco Tank Aquarium Chiller (Great for Temperature Regulation)
If reliability and performance are a priority, this is an example of the ultimate chiller. This Teco chiller has a 1/6 HP motor and a built-in heater. There is a filter screen that is magnetically attached to the Teco chiller.
The primary benefit of using this Teco aquarium is its strength. It has 450 watts of capacity to cool, and it can handle tanks of up to 130 gallons. It's one of the few devices on the market that can provide effective chilling for this large of an area.
Water flows in and out using a traditional tubing system. Every feature is built to provide you with as much value as possible. It's clear some kind of serious technology was implemented during its development.
This is an Italian item (Teco), and it comes with a two-year warranty. The price tag on this option is often quite high, so it might not be a suitable temp regulator if you're using your aquarium as a hobby for play. Still, there is a reason it's so popular, so you may be willing to pay the price.
Pros
Suitable for up to 130-gallon tanks
450 watts of cooling capacity
Strong flow rate
Strong reliability and performance
Comes with a two-year warranty
Strong rating with customers
Cons
The fan is much noisier than other selections on our list
One of the most expensive choices on the market
How to Protect Your Aquarium from Warm Temperatures
In this portion of our review, we'll be examining the types of aquariums and other information you'll need to take on your plate if you're going to keep your tank's temperature at an optimal level. 
It's important to understand the information included in this section if you want to guarantee that you keep your fish tank, coral reef tank, lobster tank, or another aquarium at the right water temperatures.
Stable Water Temperature Is Essential
Look, if you're an aquarium owner, you've probably researched fish food, filters, model, cleaning style, and a host of other aquarium-related topics.
Still, few aquarium owners understand the importance of investing in a water chiller. Providing a stable temperature for your aquatic animals is crucial if you want to avoid health complications and potentially fatal water conditions. Aquarium chillers act as a form of insulation because they ensure that there are no drastic temperature changes in your tank. Beyond controlling the climate, chillers can also prevent different types of contaminants from growing in the tank due to the temperature.
If the temperature in your tank rises too high, you may also begin to starve your pet of oxygen and thus threaten their life. This issue shows why water temperature is so important. Even reef aquariums can benefit from an aquarium water chiller.
If you want to provide the healthiest conditions for your pet fish, you should research the recommended temperature levels for each species. There are some fish that are less sensitive to temperature than others.
However, you'll find that certain fish (such as tropical fish) are particularly vulnerable to the wrong temperature levels. Some nutrients may also survive better in more suitable temperatures.
Why Aquariums Overheat
Tank temperatures can increase for any reason, but there are few specific issues to keep in mind. These common issues can influence aquariums' water temperature: weather, air temperature, room temperature, space around your tank, and other hardware that you're using to manage the water in your aquarium.
A variety of other hardware units, such as compressors, water pumps, and other critical devices, can generate heat that impacts the water temperature in your aquarium. Still, increases in air temperature in the summer is a part of the problem, as it significantly contributes to high water temperature. Additionally, if your tank has excess exposure to sunlight, it may overheat.
How to Protect Your Aquarium from Warm Temperatures
While you might view your aquarium as a project to display the beauty of your fish stock and plants, there are also some technical aspects that you must consider. Fortunately, you don't have to be a technician to meet the challenge of maintaining a world-class aquarium.
There are advanced aquarium chillers that can help you control the internal climate in your aquarium. Aquarium chillers cool down the water in your tank by using a type of heat exchange (also known as a heat exchanger) or other mechanical units to reduce the temperature of the water. In many cases, they'll also automatically track the water temperature and make adjustments accordingly to facilitate this exchange.
How to Choose an Aquarium Chiller
If you want to choose the right aquarium chiller model, you ought to consider its flow rate, strength, control mechanism, energy efficiency, brand name, and other core components. It's always important to buy a chiller that will provide enough juice for your tank size.
Some chillers also contain other proprietaries (rights reserved) styles, such as display panels, automated sensors, power loss protection, and more. You also have to consider the type of pets that you own before looking at chillers. For example, if you have fish, you'll require different chillers than an individual who owns lobsters.
Also, a person with a saltwater aquarium may require a different chiller model than someone with a freshwater aquarium. Saltwater aquariums can be corrosive (cause rust) to aquarium heaters and chillers that don't use a titanium coil design.
Where to Place Your Chiller
If you want your chiller to have the best chance of controlling the temperature of your aquarium water, it's important to store it in the right spot. While the area where you place your chiller will vary depending on design, you should also consider the place of your water pump or water filter.
The most important aspect to consider when you're placing your chiller is the potential for heat retention. If it's in the back of a shelf or in a compact space, your chiller may be expelling heat that is then retained within a confined space. Instead of cooling your water, it may have the opposite outcome.
Always make sure to follow the instructions of the manufacturer when you're setting up your chiller. They'll often provide a suggestion in terms of aquarium chiller placement.
Water Flow Importance
Flow rate is critical because it will determine how well your unit can cool the water in your aquarium. The less flow rate, the less water that will flow through the unit. If you want the best possible service from your unit, make sure to inspect the flow rate before you decide which sort of chiller to purchase. If you want to increase water flow, you have to acquire a strong water pump for your chillers. A water pump will provide a constantly moving stream of water through your tank.
Still, while the flow rate is very important, you also need to ensure that you don't purchase a water pump that uses unnecessary amounts of energy for your situation. Finding a chiller that uses a small amount of energy can help you cut down on your utility bills. Make sure to balance service and performance with the amount of energy the chiller in question uses (before you make any purchases). Follow these instructions to get the best water flow.
Aquarium Chiller Advice
If you have any questions about water chillers, this portion of our article will provide further recommendations on how to take advantage of this unique thing. If you're someone who enjoys researching an idea before purchasing it, this section will help you tick all the boxes.
In terms of getting the best value for your money, you should always consider the external features of an object. 
Elements such as customer service (customer care), free shipping, manufacturing centers in the United States, delivery orders, manufacturer quality, brand name, additional content, regular updates, and store or shop options all play a major role in which aquarium chiller you should purchase.
In many cases, you'll find that there are different categories or 'series' of each product, which means, yes, you'll need to determine which one is best for you. Consider all the applications of a particular device before deciding which direction to go or before heading to the shop. 
Below, let's explore some additional thoughts and advice to keep in mind when you're shopping for your next device.
Having a Good Filtration System
If you want to ensure your chiller is as effective as possible, you need a reliable filtration system. This might not seem intuitive, but it's actually due to the aeration that a filtration system provides. If aeration is increased, you'll be able to improve the natural chill of your aquarium water.
Water Circulation
While aquarium chillers are excellent if you're trying to control the temperature, you will still need strong water circulation if you want to have optimal temperatures. You can have the top titanium heat exchanger in the industry, but you'll still need a flow rate that can generate strong circulation. 
Oftentimes, people place too much emphasis on internal components, such as a condenser coil, heat exchange, expansion valve, probe, or fan, but you also need to consider the water pumps. There's little point in a fancy condenser coil if you have poor water circulation, after all.
LED Lighting
While aquarium chillers are excellent if you're trying to control the temperature, you will still need strong water circulation if you want to have optimal temperatures. You can have the top titanium heat exchanger in the industry, but you'll still need a flow rate that can generate strong circulation. 
Oftentimes, people place too much emphasis on internal components, such as a condenser coil, heat exchange, expansion valve, probe, or fan, but you also need to consider the water pumps. There's little point in a fancy condenser coil if you have poor water circulation, after all.
Our TOP Picks for the Best Aquarium Chillers
While all the aquarium chillers on our list provide excellent capabilities, there are a few that stand out from the crowd. If you're on the search for a new fish tank chiller, it's best to buy the consumer good that comes with positive recommendations. So, if you're ready to put a new aquarium cooler in your shopping cart and checkout, which model is right for you and worth your money?
Below, let's take a quick look at the top three aquarium chiller models available to aquarists. Read each product description before making up your mind.
This model is among our favorite water chiller items. Thanks to a strong thermoelectric system, this chiller model can quickly cool down up to 40 gallons of water. Its compact design means it's perfect if you're seeking a non-invasive chiller that still packs a punch.
This model is a top pick if you're looking for an industrial water chiller that can cool up to 130 gallons of water. The model is suitable for a wide range of applications. It also comes with a two-year warranty that protects against manufacturing issues.
This model is a corrosion-resistant product that also uses an environmentally-friendly refrigerant. It's hard to pass up this fan-favorite model if you're looking for a highly functional water chiller. It also happens to be perhaps the quietest thing available in the aquarium chiller market.
Cheap Aquarium Chiller Alternatives
If you can't afford an aquarium chiller from a manufacturer on our list, you can find a cheaper way to provide cooling power to your fish tank. In some cases, you may not have the money to order a model on our list. 
Still, if the price is your main concern, there are some other ways to decrease the number on your thermostat.
You don't need complex materials or cooling units to provide a much-needed refrigerant to your aquatic pets. Just make sure that you use substitute materials that can still provide a reliable bit of cooling. Check out the options below. A combination of these methods can solve your heat retention problem.
Increase Air Circulation & Evaporation With a Fan
In any event, if you don't want to invest in a chiller, you can increase the air circulation and evaporation around your tank's environment by using a fan.
Fans often allow you to dissipate the heat within an aquarium unit cabinet, which can be helpful if you're unable to remove your aquarium from its current location. Still, even if your aquarium isn't in an enclosed space, you can increase the flow of air by using fans near your tank.
Use Frozen Water Bottles
If you need to quickly chill the water in your aquarium, but you don't have an aquarium chiller unit yet, you can use frozen water bottles to regulate the temperature in your tank.
Many people may ask: why not just use ice cubes instead? Frozen bottles are the method of choice because they don't introduce irritants to the watery environment. If you use ice cubes, the melting water might add chlorine or a range of other toxins to the water. This can have dire consequences for the fish inside your tank unit.
Strategic Aquarium Placement
In some cases, the location of your aquarium unit may be the issue. If you can move it to a different area of your home, it may stop overheating. Think about its current environment and how it may be impacting its heat retention.
If you currently have your aquarium unit near a window, placing it on the other side of the room in your home can make all the difference. Also, if you have a heavy-duty filter or other motorheads around your aquarium, changing their side or the way they face in your room may increase circulation.
Get Rid of The Aquarium Top/Canopy and Let the Air Flow In
If you're currently experiencing air circulation issues, this could be impacting the temperature level or heat in your tank. If you want to control the environment as much as possible, it's often best to remove the canopy and reduce heat retention.
In several instances, your canopy may be acting as a seal that won't allow heat to escape the aquarium; the small hole in your canopy is often not enough to allow it to cool and for heat to escape. By increasing airflow, you should be able to provide a natural chilling effect on your aquarium unit.
Before You Add an Extra Fish…
While it's always tempting to add more fish to your aquarium, we don't advise you do this without checking the aquarium water temperature, because the temperature can affect oxygen levels. Adding more fish can make your aquarium stressful for its current inhabitants.
If the heat is high and the oxygen is low, this can be a problematic operation. You should also check the ideal water temperature for the type of fish that you're purchasing. As discussed previously, different fish may enjoy a different water temperature.
Related:
The Best Protein Skimmers of 2023 Buyer's Guide – read it here.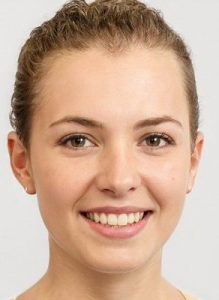 Latest posts by Kelly Stanley
(see all)