As an aquatic pet owner, you are probably aware of how time-consuming it can be to care for and maintain a fish tank. 
They can quickly become extremely dirty, and the maintenance process can be an intricate process. What was once a beautiful aquatic image is now a flood of grime. For this reason, a self cleaning fish tank can be a lifesaver for many owners, newbies or veterans.
Noclean aquariums make great birthday gifts for children and animal lovers. Children can learn about nature, and the adults don't have to make sure to keep the tank clean. Self cleaning fish tanks are also handy for entertainment purposes, college students, and people who want to make a hobby out of aquaponics.
Regardless of why you're in the market, you'll want to read this article of self cleaning fish tank reviews to get information and advice on which self cleaning fish tank to buy. To purchase these aquariums, you can order on Amazon.com as well as their original site.
Visit any of the below links listed in this article for more insights, comments, faq pages, visitor posts, or to get a second opinion.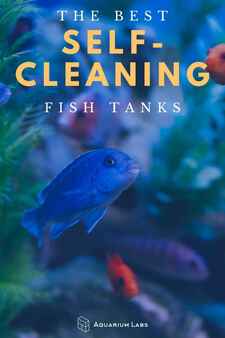 11 Best Self Cleaning Fish Tanks
1. biOrb FLOW Aquarium
If you're new at caretaking, the biOrb Flow Aquarium is the best place to start. You won't have to worry about following complex startup and maintenance instructions, and the biOrb FLOW 30 comes with everything you need to get started.
The look and design of this aquarium are excellent if you are keeping a small animal in a small area. However, one of the best features of this aquarium is that it uses a ceramic filtration system with air pumps. Because of this, it is not easily clogged, and you won't have to worry about the aquarium becoming filled with dirty water!
The biOrb FLOW 30 is perfect if you live a busy life or if you are buying a self cleaning fish tank for a child. 
The only cleaning task is to make sure you change a third of the water and replace the filter cartridge every four weeks. You also don't have to worry about operation safety since this aquarium uses low voltage lights and an air pump. What a transformer!
Specs & Features
Size: 12 X 8 X 12.5 inches
Weight: 3 pounds, water container holds 8 gallons of water
Contents: air pump, airstone, filter cartridge, 5-milliliter water conditioner, LED grow light
Design: The biOrb FLOW 30 is made out of acrylic panels.
Manufacturer email: biorbsupport@oase-livingwater.com Send them a comment.
Five stage filtration system for self-cleaning aquariums:
The system maintains the oxygen saturation of the water by keeping the water moving
The water flows in a circular motion, which collects fish waste product as it travels downward
The fish waste is drawn through the ceramic filter, which absorbs toxins.
The sponge cartridge traps the rest of the fish waste. Resin particles maintain the pH levels of the water
The clean water is oxygenated as it flows upward. The cycle repeats.
Pros
Made of acrylic, which is stronger and more transparent than glass
Amazing filtration
LED lights
The same filter cartridge fits all aquariums
There is a small gap for a heater cord where people place an optional heater
Stylish and modern design
low energy, so no negative comment about your electric bill.
Cons
Some reviewers claim that the filter replacements can be pricey to purchase
While it is low maintenance, this is not a self cleaning aquarium
Lighting is not sufficient to keep live plants.
2. AquaSprouts Garden
Do you already have a 10-gallon aquarium that needs an update? In that case, the AquaSprouts Garden may be what you need. 
True to its name, this aquaponics system can turn your aquarium into an ecosystem that sustains itself.  In fact, it has been covered by the New York Times magazine as one of the most popular self cleaning tanks. What a comment!
The idea of aquaponics is simple: the fish waste is pumped into the included grow-bed, bacteria turn the waste into nutrients that feed the plant life, and the water goes back to the aquarium. Your only job is to feed your animal.
Popular on Fish Tank World, the AquaSprouts Garden is the best for beginners and pros alike. Whether you're a veterinarian or a certified Insta browser, it is a perfect way to have your questions answered about the aquaponics technique and sustainability. 
Additionally, it can turn your standard aquarium into a lively vegetarian gardening ecosystem with the included grow media.
Specs & Features
Tank Size: 28 X 8 X 17 inches
Weight: 24 pounds
Contents: black AquaSprouts Garden, removable and adjustable light bar, submersible pump and plug timer, clay grow media (instead of soil), a step-by-step guide for setup and upkeep.
Material: Plastic
Manufacturer name and email: AquaSprouts contact@aquasprouts.com
The newest copyright model comes with improvements such as adjustable drain extenders so that you can quiet the water flow noise if it bothers you!
Pros
Reliable filtration features keep the water clean and reduces nitrates
Perfect for a no burden introduction to aquaponics
Professional look
Can be used with any 10 gallon tank
great customer service
grew from a Kickstarter campaign
includes grow substance
Cons
Disclaimer: Children may need family help to get started. The AquaSprouts Garden can require lots of knowledge but is very engaging.
Some people have found the need to buy additional supplies such as more lights, tubing, and heaters to control water temperature
The water pumps can be noisy
3. Back to the Roots Water Garden
The Back to the Roots Water Garden is also an aquaponics kit. It is smaller than the AquaSprouts Garden, which makes it perfect if you don't have a lot of space. 
This watergarden features a downloadable curriculum with answers to your questions. This tool shares all the science behind aquaponics without a classroom setting.
The Back to the Roots Garden is unique because it was developed by the hands of Oakland urban mushroom farmers. 
These farmers want to make people pay attention to the importance of growing their food with their own hands. You can show your friends and family a new way to take care of themselves. Therefore, the water garden is a research opportunity as well as a self cleaning system.
You (and your child) can register your email on the Back to the Roots website to find posts about food, comment on the growth of your garden, or get a reply to a health-related question.
Specs & Features
Size: 13.3 x 9.4 x 13.3 inches, holds three gallons of water
Weight: 3.2 pounds
Contents: Two-month supply of radish seeds and wheatgrass, D-Klor (to remove chlorine from the dirty water), Zym-Bac (to help start the nutrients cycling process), a small external pump, a discount coupon for a betta fish, natural fertilizer, and grow stones
Design: Plastic
Pros
Included herbs grow extremely fast with low commitment
Information is detailed and easy to follow
Customer support is readily available to combat any issue
Best for small animals
perfect for lovers of gardening
Quiet filter and pump tubing
Cons
May have to buy supplemental items
Some people report trouble opening and closing it
Expensive for beginners
Must be started in places where you can make a mess
4. Fluval Spec III Aquarium Kit
The Fluval Spec III has a modern honeycomb look and is perfect for housing your tiny aquatic animals. The lighting is bright so that you can see your animals and plants. It has a stylish look and requires little work on your part.
The aquarium includes a three-stage filtration system—mechanical, biological, and chemical—so that water stays ultra-clear and free of nitrite. Also, the one-sided location of the pump and filter make maintenance extremely easy.
You'll want these self cleaning aquariums if you're looking for something to have an effect on your workspace without being too distracting. It's a perfect gift for a friend with many other responsibilities. It's also the best gift for kids. Maybe even better than cookies!
Specs & Features
Size: 11.8 x 10.8 x 8.7 inches, holds 2.6 gallons
Weight: 10.1 pounds
Contents: chemical filtration system, foam block, BioMax bio rings, activated carbon, 31 LED lamps, and a powerful circulation pump
Design: Glass with aluminum trim
Manufacturer name: Fluval
Pros
Extremely quiet filter, can't hear anything
low maintenance aquarium, minimal effort required
Great fit in a living room
Made of sturdy glass
LED lighting system
Cons
Light may be too bright for certain bettas or other species
May still require monthly maintenance
5. MarineLand Contour Glass Aquarium Kit with Rail Light
If you don't want to spend a lot of effort getting your animal into a happy environment, then you want to consider this energy-efficient version that comes in different sizes.
The best part about the MarineLand Contour is that it works for many types of fish keeping. You can use freshwater fish or saltwater, and they can be of any size (as long as they fit into the area).
Your animals will feel as though they are in their natural weather with the aquarium's LED daylight and moonlight settings. 
Importantly, it will be no hassle to give your fish food since the aquarium comes with a hinged canopy. The canopy also stops them from jumping for the sky, and it reduces the chances of your animal being too cold.
The MarineLand aquarium comes with a hidden three-stage filtration system, and the flow rate of the filter pump is adjustable. You don't have to take your pets for a ride!
Specs & Features
Size: 12 x 12 x 12.5 inches in diameter, holds 3 gallons of water
Weight: 12.4 pounds
Contents: Marineland Bio-Foam and Rite-SizeTM Z cartridge for filtration, filter pump, white and blue LED lights, canopy
Design: Glass tank with no tint
Manufacturer website: http://www.marineland.com/
Pros
Pump power is adjustable
Fishtankworld 2016 called it easy to put together
good build quality
Extremely low maintenance
Good quality and cost-effective
Cons
May need to add a heater
Animals can come into harm if they get trapped by the filter
Light may need adjustment for a certain plant type
6. MarineLand 5 Gallon Portrait Glass LED Aquarium Kit
This aquarium boasts MarineLand's signature hidden filtration system and changing LED lights. If you want an aquarium that allows you the joy of viewing your little guys, you may like this aquarium for its rounded effect.
The sliding canopy compartment allows you to access your animal easily and feed without any of those tiny feeder slots. If you want a sense of a complete package, this aquarium is easy to accessorize. It comes with a compatible heater and a number of plants.
This kit is a different version of the MarineLand Contour. It has more space, is more of an investment, and the lighting system is not curved like the Contour.
The best animals for this tank include betta fish, guppies, tetras, and even frogs. If you have more than one betta, you might want to get multiple tanks since there are no ways to divide this thing.
Specs & Features
Size: 11.8 x 11.6 x 17 inches, holds 5 gallons of water
Weight: 14.3 pounds
Contents: Marineland Bio-Foam and Rite-SizeTM Z cartridge for filtration, filter pump, white and blue LED lights, sliding glass canopy, removable base
Design: Glass tank with curved edges
Pros
Comes with a warranty
Kids can play with all the materials, free of ammonia
The base piece is sturdy clay
Height makes it perfect for tall plants or limited space
A tad cheaper than other companies
The case is hard for cats to get into
Cons
Cleaning task around the filter is difficult
LED lights may be too bright for some owners
Not much room to add another element such as a mount or heater
7. Penn Plax Aquaponic Betta Fish Tank Promotes Healthy Environment for Plants and Fish 1.4 Gallon Capacity – APON2
The Penn Plax 1.4 Gallon is different from most other aquariums and aquaponic systems. Fish tank planters can create a healthy environment for bettas, goldfish, white cloud minnow, or bloodfin tetra. The tank is small, making it perfect for storing with minimal space.
Whether or not you intend to provide fish, the tank adds beauty to any setting. If you already have a houseplant, then get rid of pots and use this aquarium planter to help both your fish and plant thrive. It's a symbiotic principle: The plant will benefit from the fish waste, and the plant helps to purify the dirty water.
Penn Plax recommends the following type of plant, but most indoor house plants—make sure they are non-toxic—should work:
Chinese evergreen
English ivy
Bamboo
Watercress
Mint
Chives
Leafy lettuces
Regardless of your choice of plant type, the self-cleaning planter comes with ceramic planting media to support the growth of your plant.
The Penn Plax is educational and straightforward. You can use it to teach a child about plants and animals or make it a solid start to your developing hobby in gardening. The fishbowl is clear, which enables you to see the roots of the plant. For occasional cleaning of the tank, just use warm water.
Specs & Features
Size: 8 x 8 x 10 inches, holds 1.4 gallons of water
Weight: 2.5 pounds
Contents: tank, planting lid, ceramic growing substrate/media
Design: plastic
Manufacturer name: Penn Plax
Pros
Top lifts easily for feeding
Easy to maintain, self-sufficient ecosystem
Perfect for teaching classroom children
The plant keeps the air oxygenated
Perfect for classrooms, kids, and teachers
aquaponics option
keeps water free of nitrates
Cons
Difficult to add a filter or heater to this tank
Too small of a container for most water animals
Overall, this is an extremely adorable planter for a house plant and a single fish. For best results, you'll want to make sure you choose the best animal and kind of plant for the size!
8. EcoQubeC Aquarium – Desktop Betta Fish Tank for Living Office and Home Décor
Editor's Note: This product is no longer available.
This aquaponics system is a perfect accessory for your desk, home, or work. Since the plant filters the water, you don't have to worry about changing the water. The system comes with everything you need for set up: sand, a cover, a remote control, plant seeds, and an ornament.
Because it is all-inclusive, you won't need to spend money on separate accessories. The aquarium is handmade and comes with a basil plant. As the plant grows, the aquarium water will get cleaner.
If you need a fresh herb such as parsley in your space, you'll love the EcoQube Aquarium. The only responsibility required is that you feed your animal and top off the water once or twice a month. The aquarium is great for a few small fish, with snails or algae-eating shrimp.
This aquarium also comes with an LED light that changes color. You can schedule the color change aspect with the automatic timer. You'll love the EcoQubeC, whether you already have an animal that needs a home or are planning to get one.
When can you add your little one? You have two options:
You can add your animal immediately if you substitute an already grown plant and put it into the included medium with tap water.
If you wish to grow a plant from the included seeds, you will have to wait two weeks (or until the plant grows two inches tall) to add fish.
Specs & Features
Size: 10.1 x 9.1 x 8.8 inches, holds 2 gallons of water
Weight: 5 pounds
Things Included: aquarium sand decoration, handmade mountain stone, cover, remote-controlled LED light
Design: plastic
Manufacturer Website (also for sale here): https://getecoqube.com/products/ecoqube-c-basic
While the aquarium comes with an organic plug for the basil plant, here is the company list for many plants that you can also use:
Aloe Vera
English Ivy
Peace Lily
Snake Plant
Bamboo Palm
Spider Plant
Golden Pathos
You can also get an optional UV sterilizer with your aquarium. The UV sterilizer keeps your tank water a lot cleaner, and it can fight algae and bacteria that grow from overfeeding or too much light. A true transformer!
Pros
Low maintenance for any person
Gives your place a pop of color
Comes with remote control light
Can grow a variety of plants
Has a one-year warranty
Top-rated on sites like fishtankworld.com
Cons
Some buyers received packages with missing parts
A bit expensive for beginners
Plant growth rate varies amongst reviews
Mountain stone accessory is a bit large
Users have varying degrees of success with the greenery
The benefits of this small ecosystem are that it is no problem to understand and is an attractive way to display your small freshwater animals.
9. Huamuyu Hydroponic Garden Aquaponic Fish Tank Plants Growing System Self-Cleaning Seed Sprouter Tray
This tank is another one of the aquaponic ecosystems, and you'll love it if you need to add flair to any places. At the top of the tank, there is a can sprout multiple seeds for your enjoyment. If you're looking to add
Leave your days of struggling with cleaning your aquarium behind. The hydroponic filtration system means that this tank is self-cleaning. Even when you do need to clean it by hand every so often, the shape of the system makes cleaning easy.
This tank is suitable for fish that are about two inches long. Because of the automatic siphon design, both the animal and the plant experience natural air supply and drain cycles.
A perfect gift for a kid, parent, teacher, or foodie, the Huamuyu Hydroponic Garden comes with a supplemental participant guide and videos to facilitate learning about germination and animal care.
Specs & Features
Size: 12.2 x 7.7 x 11 inches, holds 3 gallons of water
Weight: 5.6 pounds
Contents: seed tray, filtering pump
Design: multiple plastics
If you want to use this system without fish, you can plant many different vegetables and herbs in the seed tray for soups or salads. If your passion is reducing your carbon footprint, turn this tank into a gardening system for flowers. You'll find a list of uses on any of sellers' pages.
Pros
Great for school projects
No stress for beginners
There is a gap big enough for heater and light cords
supplemental content to help you answer any question
ammonia free
reduces the burden of cleaning
manufacturer website has a course on aquaponics
Cons
Small creatures or small things can get caught in the pump
The pump needs periodic replacement
10. Joyfay Aquaponic Fish Tank, 3.2 Gallon, Hydroponic Cleaning Tank, Fish Feeds the Plants and the Plants Clean the Tank
Similar to the Huamuyu Hydroponic Garden system, the Joyfay is a self-cleaning tank that requires minimal effort to maintain. The plants at the top keep the water clean for the animal at the bottom, while the animal gives the plant the necessary nutrients. You only need to take care of the fish with fish food.
This system can be used to grow a variety of herbs. Some suggested plants include:
This system needs to remain plugged in to keep the filter running, it's perfect for an office space or kitchen table. It is low cost and has a fun appearance, as you can see when you look at images or video footage from the manufacturer. You can see comments on the Amazon website to get tips on using this aquarium.
Specs & Features
Size: 11 x 8 x 2 inches, holds 3 gallons of water
Weight: 6.7 pounds
Contents: lid, water pump, aquarium rocks for the plants
Design: made of plastics
Pros
Garden bed for growing all types of plants
Setup requires little work
Attractive look
Fits easily on a countertop, table, or another piece of furniture
Openings on sides can incorporate other equipment
One of the best deals for similar models
Cons
Plants not included with this item
Rocks can be messy if not washed before use
Gravel vacuuming can be challenging
11. As Seen on TV 56028 My Fun Fish Tank, 4 3/4 x 6 x 10-Inch
One of the most affordable purchases on this list, the My Fun Fish Tank has made a TV appearance as a great choice for kids or teachers. It is self-cleaning, shaped like a pitcher, and comes with an LED light. 
You can't make a mistake, because the tank works simply. When you add clean water at the top, the dirty water pushes out of the disposal tube on the side.
If you are the owner of a small fish, the My Fun Fish Tank will look good on your counter or desk space. The light runs on batteries, which means you won't have any issues keeping it powered on a daily basis. 
The LED light makes it stand out to others and keeps the fish illuminated for easy viewing.
Specs & Features
Size: 4.5 x 4.5 x 10 inches, holds 1.5 gallons of water
Weight: 1.8 pounds
Contents: fish tank, white LED light, aquatic plant, riverbed rocks
Design: made of plastics
Pros
This item does not require power cords
Simple appearance
Easy to set up, anyone can do it
Water changes are quick and easy
Fun and interactive for a child
Uses gravity cleaning technology
Unbeatable price
Cons
Small for most fish and cannot be used for the long-term
The light is difficult to replace and could become an issue
The disposal tube must drain into something else
Our Top Self Cleaning Fish Tank Pick
After careful review of all these self-cleaning aquariums, our recommendation for a self cleaning fish tank is the MarineLand 5 Gallon Portrait LED Aquarium Kit. It is of great quality for the price, has few drawbacks, and the changing lights mimic a fish's natural environment.
The amount of space makes it work for multiple fish or snails. Even if you have a single fish, it will be able to thrive in this five-gallon easy maintenance aquarium. Lastly, the filtration system is effective and easy to use for someone of any experience level.
Recent Articles:
Best Bow Front Aquariums of 2023
Best Gifts You Can Get an Aquarium Lover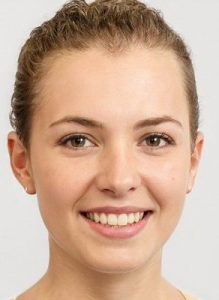 Latest posts by Kelly Stanley
(see all)