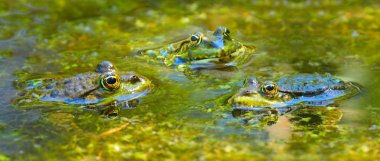 I find that more and more first-time pond keepers are asking me an important question: Do frogs eat goldfish? You would think it's more common for goldfish to eat frogs! But believe it or not, larger frogs eat just about anything they can catch. And if you aren't aware of which species are a threat and how to manage them, you might be serving up a buffet to the local wildlife!
Do Frogs Eat Goldfish? More about Bullfrogs and Goldfish
It turns out that goldfish and other pond fish can be placed in significant danger by adult frogs. Most frog species that visit your pond are of no concern, including toads, tree frogs, Leopard Frogs (Lithobates sp), and other frogs. In fact, they are fascinating to watch, feed on aquatic insects, use your pond as a breeding ground, and add to the biodiversity of your backyard. But the American Bullfrog (Lithobates catesbeianus) is a large predator and a nuisance for backyard pond keepers in the Eastern USA.
Bullfrogs present around your fish pond will lurk along the edges, waiting for something small enough to overpower to come close. Since healthy backyard pond fish are accustomed to moving towards shadows overhead, looking for you to feed them, they are easy pickings for larger frogs.
Most frogs are actually opportunistic in this way, pouncing on and eating anything small enough to overpower. But few are large enough to threaten a mid-sized or adult goldfish. Frogs prefer to eat insects, worms, and other tiny animals. But only bullfrogs get large enough to snatch the odd goldfish.
They can grow nearly 8 inches long and 2 lbs in weight. Bullfrogs will also leap to grab flying insects from the air, overpower small snakes, baby birds, mice, small fish, and even eat smaller frogs!
Getting Rid of a Predatory Bullfrog
Since bullfrogs are a threat to backyard ponds and pond fish, you need to be vigilant. Listen for their distinctive booming call in your area. Even when young, they lack the spots of Leopard Frogs. Bullfrogs are also much larger than other frogs and are hard to miss when camping out along a smaller pond.
A long-handled net and patience is the best way to get rid of them. Or better still, hunt at night using a flashlight. Shining a flashlight directly into their eyes blinds and confuses them, allowing you to grab them by hand or with a trash picker if you're squeamish!
You can also reduce the frog population of your pond by watching for the egg masses that they leave behind. Like all amphibians, bullfrogs return to the water to spawn.
Other Pond Fish Predators
Outdoor ponds naturally attract frogs since comfortable, calm bodies of water free of competitors are hard to come by. Living near a large natural wildlife pond also increases the chances of frog predation coming up. But there are a number of other nuisance species that can be a significant threat to goldfish.
Predatory birds are a major hazard because they are much larger than frogs. The great blue heron will eat bullfrogs, snakes, small animals, and other goldfish predators. But they also love a juicy fish first thing in the morning, especially goldfish, which are easy to see and have a hard time fleeing in a shallow backyard pond.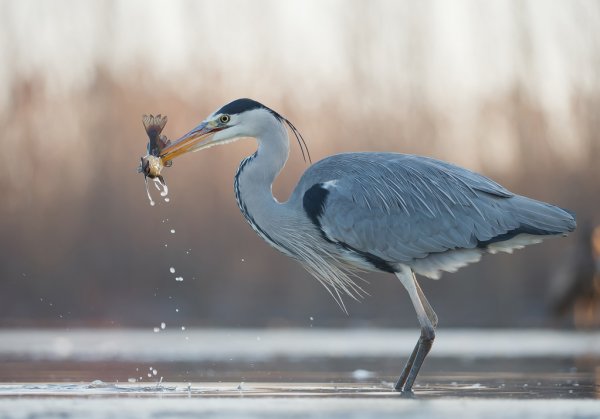 Since Great Blue Herons prefer hunting around dawn, the only sign that you have one lurking by the time you get up is fish mysteriously disappearing. Herons are even large enough to eat medium-sized Koi fish and adult comet goldfish.
Placing a net over your pond at night is the simplest solution if you have a smaller pond. The net keeps the heron and other such predatory birds from wading in the shallow parts of the pond, encouraging them to move on.
Water snakes, however, will slip right through a net. They usually only eat smaller goldfish, but they are easier to deal with because they tend to live beside their pond of choice. You will see a water snake basking nearby if one has moved in. The majority are non-venomous, save the aggressive and dangerous Cottonmouth (Agkistrodon piscivorus), which should be dealt with only by an expert nuisance wildlife trapper.
Believe it, or not even insects can be a danger! Dragonflies often look beautiful from the surface as they flit about your pond, catching the sunlight. But dragonfly larvae and many other aquatic insects have a predatory stage where they hunt for small animals beneath the surface.
Since dragonfly larvae can be a few inches long, they can easily grab a baby goldfish and consume it. Fortunately, predatory insects are a problem that solves itself. Adult goldfish find them delicious, and the insect population will drop dramatically as your fish grow up.
Will Goldfish eat Frogs?
The mouth of even a large goldfish is much too small to eat anything but the smallest of frogs. Maybe an African Dwarf Frog might be in danger from a goldfish. But goldfish have a very healthy appetite for tadpoles. Even small goldfish will eat tadpoles if they are the right size. A tadpole can swim fairly quickly, but they live along the bottom, right where goldfish prefer to forage.
Other creatures eat tadpoles as well, including pond visitors like raccoons, turtles, and even other frogs. If animals ate frog eggs, it would make keeping them under control much easier. But the eggs of most frogs are coated in a thick, bad-tasting, and often poisonous jelly that repulses predators that try to taste them.
Healthy Backyard Pond Fish
Since bullfrogs enjoy smaller fish, one should choose fish species that are too large to make an easy meal. Adult goldfish and koi are hefty enough to be taken off the menu. Adding other fish besides goldfish can also help keep the frog population under control. Many native fish, such as sunfish and young bass, are expert hunters of frogs and tadpoles (though be aware that adult bass will also eat small goldfish).
Conclusion
While some frogs enjoy hunting goldfish, that's only common for large frogs. The majority are far too small to pose a threat to your pond life. Native wildlife, including predatory birds, raccoons, turtles, and snakes, are also something to be aware of. But they can also be managed using the tips here without too many worries!
Related FAQs: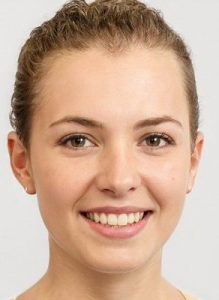 Latest posts by Kelly Stanley
(see all)