If you're looking to keep your goldfish thriving and growing, then you'll need to choose a formula that contains everything they need for optimal health.
In this complete breakdown of the best goldfish food of 2023, we'll be taking a close look at each blend. You'll also learn what makes each ingredient helpful and become more informed on how to shop for quality goldfish food!
Introducing the Best Goldfish Food in 2023
Image
Product
Features
Price

Our Top Pick

Northfin Food Goldfish Formula 2mm Pellet 250 Gram Package
Check Latest Price
Tetra TetraFin Goldfish Flakes Food with ProCare, 4.4 oz

This Special Procure Formula Meets All Nutritional Requirements Of Cold-Water Fish And Will Stay Firm When Fish Strike.
Procure Is A Health-Enhancing Blend Containing Omega-3 Fatty Acids
Does not cloud the water
A Scientifically-Developed Blend That's Easily Digested
This special ProCare formula meets all nutritional requirements of cold-water fish and will stay firm when fish strike.

Check Latest Price
Repashy Super Gold Goldfish and Koi Gel Food 6 Oz JAR

Specifically developed for excellent digestion and nutrition in Goldfish & Koi. Easy to make premix, featuring a wide-spectrum of Quality Ingredients.
Guaranteed Analysis: Crude Protein min. 40%, Crude Fat min. 6%, Crude Fiber max. 5%, Moisture max. 8%, Ash max. 10%.

Check Latest Price
New Life Spectrum Goldfish Large 150g (Naturox Series)

Spectrum nutrition formula for all large fancy goldfish
Easy to digest nutrients from whole krill, squid & seaweed
High-density nutrition for less waste & more feedings per jar!
No soybean additives
Enhances the full spectrum of your goldfish's color naturally

Check Latest Price
Tetra Pond Pond Sticks, Pond Fish Food, for Goldfish and Koi, 3.70 Pounds (16484)

HEALTHY POND NUTRITION: An ideal maintenance diet for your koi, ornamental goldfish and other outdoor fish species.
DAILY DIET: Provides nutrition for energy, longevity and overall health.
SOFT STICKS: Floating sticks are easy for fish to eat and digest.
CLEAR WATER: Feeding a high-quality, highly digestible food creates less waste for clearer water.
USAGE: Feed daily when water temperatures are above 50 degrees.

Check Latest Price
API GOLDFISH PELLETS Fish Food 4-Ounce Container, Medium, Model:833B

Contains one (1) API GOLDFISH PELLETS Fish Food 4-Ounce Container
Made with optimal protein sources and fiber to help promote healthy digestion
Formulated for efficient use of nutrients resulting in less waste and less ammonia production for clean, clear water
Yeast, garlic and vitamins C and E help support the immune system
Feed up to twice a day the amount of food that your fish will consume within 3 minutes

Check Latest Price
Hikari Saki Fancy Goldfish Fish Food for Premium Grade or Fancy Goldfish, 7 oz. (200g)

Rich in astaxanthin and pure cultured spirulina, offering vivid color enhancement
Balanced formulation promotes improved growth and desirable form
Rich in Vitamin-E and stabilized Vitamin-C offering outstanding immune system support
The Hikari-Germ helps reduce and recondition waste thereby improving overall water quality
For all types of premium-grade or fancy goldfish, especially Ranchu

Check Latest Price
Tetra RiverShrimp 0.92 Ounce, Natural Shrimp Treat For aquarium Fish, Red, Model Number: 77017

aquarium DIET SUPPLEMENT Natural shrimp treat designed to supplement any Tetra staple diet foods such as TetraMin Flakes and any TetraPro foods
FOR FRESHWATER & SALTWATER FISH Premium-quality nutritious supplement provides variety to your fish's diet
COLOR ENHANCING Carotene a natural color enhancer sourced from shrimp helps bring out the natural pink orange and red colors of fish
USAGE Feed 2 to 3 times a week in addition to staple diet only as much as your fish can consume within a few minutes

Check Latest Price
Aqueon Goldfish Food Granules, 5.8-Ounce

Natural ingredients and colors with added vitamins, minerals and trace nutrients
Nutritious food ingredients that fish are naturally attracted to
Formulated so that fish utilize more of what they eat and create less waste
Good for common goldfish, fancy Orandas or small koi
Will not cloud water when fed as directed
Approximate granule size 1.5mm
Ideal for Comets, Fantails, Shubunkins, Orandas, Ryukins, Lionheads, Telescope Eyes, Moors, Bubble Eyes, Celestial Eyes, Pearlscales, Small Koi

Check Latest Price

Our 2nd Pick

Omega One Goldfish Pellets, Sinking, 6mm Large Pellets, 7.5 oz

FOR SENSITIVE SYSTEMS: Omega One Goldfish Pellets are formulated specifically for the sensitive goldfish digestive system. They are 100% meal free and contain significantly less starch than other goldfish foods
COLOR-BOOSTING NUTRITION: Hand-harvested fresh ocean kelp provides critical nutrients and aids in digestion. Natural beta carotenes in salmon provide extreme color enhancement. Rich in Omega 3 & 6 for improved energy and immunity
KEEP A CLEANER TANK: Our Sinking Goldfish Pellets are naturally insoluble, which reduces water pollution, and they have significantly less starch, which reduces fish waste
INSTRUCTIONS: Feed 1-3 times daily, using only as much food as fish can consume in two minutes
GUARANTEED ANALYSIS: Min Crude Protein 35% / Min Crude Fat 10% / Max Crude Fiber 3% / Max Moisture 8.5% / Max Ash 8%

Check Latest Price
TetraFin Plus Goldfish Flakes 7.06 Ounces, Balanced Diet, With Algae To Promote Health

GOLDFISH FORMULATION: Specially formulated as a premium staple flake food for your goldfish or small koi.
WITH ALGAE FLAKES: Extra vegetable matter helps support fish health and promote digestibility.
PROCARE FORMULA: Helps support fish's immune system for optimal health and long life.
CLEAN AND CLEAR WATER FORMULA: Designed to be easily digested, helping to keep aquarium water clean and clear.
COLOR ENHANCING: Enhances the goldfish's naturally brilliant colors.

Check Latest Price
11 Best Goldfish Food Reviewed
1. Northfin Goldfish Food
If you prefer feeding goldfish food that's made exclusively of unprocessed whole ingredients, then it's hard to find a better blend for common and fancy goldfish! Organic kelp, Antarctic krill, and herring meal are the first three main ingredients, and at 36% crude protein, the formula is right where we want it!
Another aspect I love about the Northfin Goldfish Food formula is that they provide loads of beneficial additives, including Montmorillonite clay (a source of calcium), garlic for immune system health, and spirulina algae; one of the most nutrient-rich sources of food on earth!
Main Benefits:
Uses only whole, unprocessed ingredients
Perfect balance of nutrients for omnivorous fish
Nutrient-rich with added supplements
2. Tetrafin Flakes Goldfish Food with ProCare
Tetrafin has been making tropical fish and goldfish flakes for decades, and their ProCare formula is at the cutting edge of the science. Fish meal is the main ingredient, giving us a 45% crude protein formula that's a great basis for a goldfish's diet when paired with vegetable matter from another source.
The main benefit to using this particular blend is the addition of Tetrafin's ProCare formula, a carefully calibrated blend of omega fatty acids. These chemicals are normally found in krill and oily fish and are essential for all animals' nerve, muscle, and heart health! The only downside is that this pushes the crude fat content a little higher than I'd like (11% by weight).
Main Benefits:
Rich in protein and fat (supplement with extra veggies)
Processed goldfish flakes don't go bad
Formulated not to cloud water
3. Repashy Super Gold – Goldfish and Koi Gel Food
If you don't mind doing a little bit of cooking, Repashy Super Gold is one of the best goldfish foods for aquarists looking to get whole ingredients to their fish. As a gel food powder that is added to hot water, you get the benefits of both fresh and prepared food.
It does not need refrigeration until you mix it with hot water. Any uneaten gel food can be placed in the fridge, where it will last for many weeks.
Repashy even includes black soldier fly larvae in their formula! Insect larvae are a very natural source of high-quality protein and fat for goldfish. Yet at 6% crude fat, this formula stays right within healthy boundaries for your fish!
Main Benefits:
Gel formula has the best qualities of both prepared and fresh foods
Several high-quality plant and animal-based ingredients, including black soldier fly larvae
High protein, moderate fat, and excellent moisture content
4. New Life Spectrum Goldfish Food
New Life Spectrum designed its goldfish pellets specifically for large fancy goldfish. These slow sinking pellets give them plenty of time to find and eat them before they fall into the gravel, potentially lost.
The main ingredients used by New Life Spectrum are whole krill, squid, and seaweed. Seafood is the most digestible animal protein for goldfish. And seaweed offers a broad range of vegetable-based nutrients, from vitamin C to soluble fiber!
Main Benefits:
Seafood and aquatic plant-based formula
Slow sinking pellets easy for fancy goldfish to find
No soybeans or grain additives/fillers
5. TetraPond Goldfish Sinking Sticks
Pond koi and goldfish tend to eat much more than their indoor dwelling cousins. TetraPond Goldfish Sinking Sticks offer substantially more nutrition for the price compared to smaller pellet and flake formulas.
At 28% crude protein, this formula is on the lower end, offering a vegetarian option if you also offer a high protein formula that's too rich. Just be aware that since corn starch is the main ingredient, with wheat, soy, and other plant meals, it's higher in carbohydrates than other blends.
Main Benefits:
Formulated to soften on contact with water for better digestion quickly
Enriched with Vitamin C
Low protein plant-based formula
6. API Sinking Goldfish Pellets
API's Sinking Goldfish Pellets use whole menhaden as the main ingredient, a high-quality fish-based source of protein. Since this blend sinks, it ensures that all of your other fish get a taste, not just the surface-dwelling ones. API also claims that their goldfish food results in up to 30% less ammonia production compared to other brands as well!
Main Benefits:
Several nutritional additives, including garlic, yeast, Vitamin C, and Vitamin E
Sinking formula gets food to all fish, even bottom dwellers
Formulated not to cloud water
7. Hikari Saki Fancy Goldfish Food
Hikari Saki Fancy Goldfish food is a blend of processed animal and plant-based food fortified with several essential vitamins, minerals, and additives! One important additive is astaxanthin, which makes red colors in scales and fins more vibrant when added to fish food. Cultured spirulina also offers a potent nutritional boost.
Main Benefits:
Astaxanthin for richer colors
Excellent 10% moisture content
Spirulina, Vitamins A, C D3, E, and other enrichment
8. Tetra River Shrimp Fish Food
Whole foods are the best items to feed your goldfish since they are closest to how food exists in its natural state. But what if you don't want to deal with messy frozen food or squirming live food? That's where Tetra River Shrimp Fish Food comes in!
This formula uses all-natural ingredients since sundried river shrimp are the only ingredient in this food! The label calls them "sun-dried krill," but that's kind of a misnomer since these are freshwater shrimp, not krill from the sea, which are richer in omega 3 fatty acids.
I recommend breaking the shrimp into smaller pieces if they are too large for your goldfish. They can also be quite crunchy, so a presoak can make them more palatable for fish trying river shrimp for the first time!
Main Benefits:
Uses only whole river shrimp
Rich in carotenoids for color and chitin for roughage
Not perishable yet entirely natural
9. Aqueon Goldfish Granules
When looking for a good prepared goldfish food, I prefer blends that use a long list of ingredients, as Aqueon Goldfish Granules do! While it does use a few more prepared meal formulas than we like to see, dried yeast, kelp, spirulina, and other plant-based additions help round out the nutritional profile of this fish food!
These granules also sink slowly, so you are less likely to end up with too much food falling beneath the gravel bed.
Main Benefits:
Slow sinking so goldfish eat most of it
Does not cloud water
Very diverse list of ingredients
10. Omega One Small Sinking Goldfish Pellets
Omega One's Small Sinking Goldfish Pellets are my favorite because we see a lot of WHOLE ingredients on the label. Whole herring, whole shrimp, and other whole foods mean your goldfish are getting the good parts of the animal, not just waste scales and shells. Salmon sourced beta carotenoids aid in color enhancement, while ocean sourced kelp further boosts the nutritional profile of this goldfish food!
Main Benefits:
Fish food uses whole fish and shrimp meal
Enhanced with beta carotenoids for color enhancement
Vitamins A, B12, C, D3, E, and others further enrich the blend
11. TetraFin Plus Goldfish Flakes
Building on the original TetraFin ProCare blend, TetraFin Plus also adds algae meal to the formula. Algae is one of the best natural foods that goldfish eat. It is packed with essential nutrients in a profile that their digestive system can make good use of.
And like TetraFin's other formulas, TetraFin Plus is designed to not cloud the water even if you accidentally overfeed a little. Your goldfish also receive the same ProCare blend of omega fatty acids in this fish food!
Main Benefits:
Algae meal, which is a favorite food of pond and wild goldfish
ProCare formula includes omega fatty acids
Flake formula does not cause cloudy water
Goldfish Nutritional Requirements and Diet
Protein
Protein is an important building block for fish health, and goldfish are no exception! Herbivorous fish should have 15-30% protein, and carnivores need greater than 50% in a balanced diet.
Since goldfish are omnivorous, we want to feed goldfish a diet that is somewhere in between these numbers. Each of the goldfish pellets and flake formulas listed here is within this range.
But also consider ways to get more vegetable matter in their diet, to balance things out if a particular formula is on the higher side (>40%).
Look for shrimp and fish proteins when reading the ingredient labels on different goldfish foods. It's better to stay away from land animal-based sources of protein, such as chicken, beef, or pork, when feeding your fish.
Not only are these the wrong kind of protein, but they also carry much higher concentrations of fat than fish can handle. Fortunately, fish meal is the most common protein additive for goldfish foods!
Carbohydrates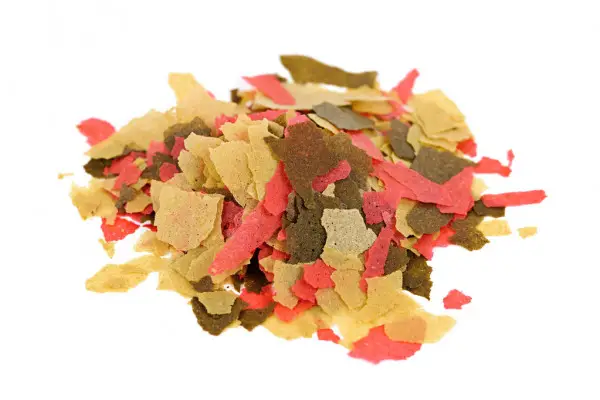 Carbohydrates are found in sugar and starch and are an important part of a balanced diet for people. But there are next to no aquatic sources rich in carbohydrates, which is why goldfish are very poor at digesting them.
Land mammals like us can extract up to 4 calories of energy from a gram of carbohydrates; fish, on the other hand, will only get up to 1.6 calories of energy from a gram of carbs.
This is why the best goldfish food has very few carbohydrates, focusing more on protein. Wheat flour, potato starch, and other starch-rich sources are sometimes used as binding agents and fillers to bulk up commercial goldfish foods.
While some starch is fine, be careful with brands that have several starch-rich sources as the primary ingredients! The flip side is that to be entirely free of starch, which has poor nutritional value, you have to stick to whole food blends that are significantly pricier in comparison.
Fats
Fat is essential for cell membranes and energy storage for winter hibernation. Goldfish also store fat for lean periods when food is scarce. Since lean periods and winter hibernation don't happen in an indoor aquarium, you don't need to offer much fat.
Natural sources of fat include insect larvae and worms, including tubifex and earthworms. So only offer low-fat foods to keep your goldfish healthy and trim! 5-10% crude fat or less is all that's required in food for goldfish.
Vitamins and Minerals
Vitamins and minerals are part of any balanced goldfish diet. The list of macro and micronutrients is endless, and new items are discovered on a yearly basis. So it's not worth trying to ensure that every single item is part of any one food formula.
That said, most of the goldfish food formulas above add supplements to boost their nutritional content. A few supplements to look out for include Vitamin B12, calcium, Vitamin A, Selenium, Vitamin C, and Zinc.
These elements and chemical compounds do everything from boosting the immune system of your goldfish to enhancing the skin pigments for better color! If a particular processed food doesn't have many added vitamins or minerals, adding variety in the form of live or frozen foods will help make up the difference!
Essential Foraging
In a natural diet, goldfish never eat just a single food all day, every day. So no matter how advanced your favorite gel food or fancy goldfish formula is, you should always add extra treats and surprises for them to graze on.
That means offering them a mixture of frozen food, live food like brine shrimp, soft aquatic plants like Elodea, and even supermarket vegetables. Peas, spinach, zucchini, lettuce, and other grocery store staples are excellent ways to get essential vitamins and fiber into your goldfish.
Simply boil the fresh vegetables lightly for 5 to 10 minutes beforehand before clipping them in place with a goldfish veggie clip! Parboiling softens them so your toothless goldfish can tear pieces off and digest them easily.
This roughage helps move waste through the digestive system more effectively and slows things down enough for ideal nutrient absorption to occur.
Other Foods You Could Feed Your Goldfish
Live Food or Frozen Foods
Feeding a goldfish live food is a great way to provide healthy treats for your fish! Since goldfish are omnivores, they will consume just about anything small and slow enough to catch. But small invertebrates like snails, insect larvae, and worms are their favorite prey items.
Most aquarium specialty stores will carry live brine shrimp, blood worms, and tubifex worms to offer occasionally.
I would not rely on live food as a main food source because depending on the source you get them from, they can transmit pollutants, parasites, and bacteria to the fish that eats them. Especially tubifex worms, which normally are found in the muck and polluted bodies of water.
On the other hand, frozen food is excellent because the freezing process kills off most bacteria and parasites! Frozen brine shrimp, for example, offers a healthy boost of natural fat, protein, and carotenoids for goldfish.
And they are far more convenient to keep stored than live food since they can remain frozen indefinitely.
Freeze-Dried Food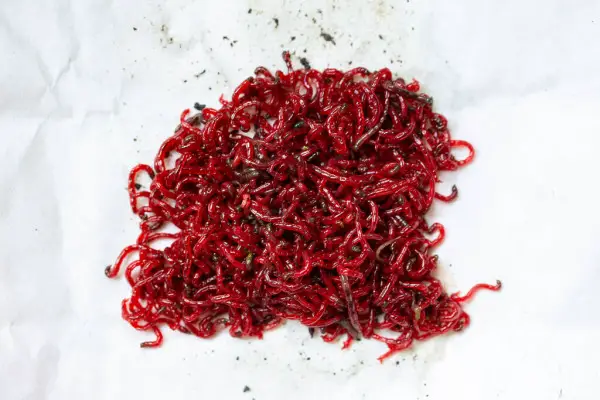 I prefer feeding prepared, fresh, live, and frozen food over freeze-dried foods. Freeze dried food is convenient since it does not go bad unless it gets wet. But the dryness can be offputting if fed to your goldfish right away.
Any freeze-dried food should be soaked in water for a few minutes first to make it more palatable. Especially foods with hard shells, like shrimp and gammarus. You might find that your goldfish will eat freeze dried blood worms and brine shrimp with no soaking required, though!
Buyer's Guide On Choosing the Best Goldfish Food
Avoid Low Quality Fish and Poultry Meals
Unfortunately, the terms fish meal, poultry meal, and other "meal" additives are misleading. We want to imagine it's basically ground-up fish. Except fish meal consists of the junk parts that would otherwise go to waste from seafood processing.
That means bones, scales, fins, and maybe a bit of organ meat, but not very much. Poultry meal is even worse, almost always consisting of feathers, feces, bones, and other waste products from factory chicken farming.
In short, the lowest quality ingredients possible. You want to buy brands that use WHOLE fish meals. Other seafood meals, including squid meal, shrimp meal, and mussel meal, are also great since they use the entire invertebrate as an additive!
Avoid Too Much Corn, Wheat, Rice, and Soy
We want to avoid these products as much as possible when shopping for goldfish food. Why? After all, they are staples of the diet for not just humans but even food for dogs and other pets! But…
Goldfish don't eat grain, tubers, or other highly concentrated sources of carbohydrates in the wild. Protein, fat, fiber, micronutrients, and moisture are far more important than carbs to them.
If you do find any of these popular filler or binding agents on the ingredients label, stay away if they are in the top three ingredients, as that's simply too much filler to be a quality goldfish food formula.
Avoid Blends with Too Many Chemical Additives and Supplements
Vitamin supplements are a great way to boost the nutritional content of your favorite goldfish food formula. But take a moment to compare these additives with the quality of the ingredients I mentioned earlier.
No matter how many additives a formula adds, vitamin C, B, A, and so on. All the nutrients that matter most should be coming from quality ingredients. The best food for fish does not consist of a mixture of junk meals and corn starch plus vitamins.
Loads of preservatives are also bad for goldfish health; many can disrupt proper digestion and fish metabolism.
How Much Do I Feed My Goldfish?
A common question that many goldfish keepers have is how often and how much to feed your goldfish! When younger, goldfish need to eat more frequently because they are still growing. Their metabolisms are also faster compared to large, adult goldfish.
I recommend feeding as much as they will eat in 5 minutes, 2 to 3 times per day. Unlike younger fish, grown adult goldfish tend to slow down enough that 1 or 2 feedings per day are often enough. But this does depend on goldfish growth, water temperature, food quality, and other factors.
The author of this educational video breaks down the most popular strategies to ensure your goldfish get enough food! Regardless of the exact method you choose, setting a feeding routine is a good idea because all animals prefer stability!
Our Best Goldfish Food Top Picks
Well, if you've read this far then, the best goldfish food should not be a surprise. Northfin Goldfish Food formula gets the nod today thanks to its focus on providing whole quality ingredients and cutting out all fillers from their formula! Organic kelp, spirulina, whole herring, and sardine meal.
We see a little wheat flour but far enough down the list that it acts as a binding agent rather than a filler. The formula is further enriched by garlic (immune system and flavor), montmorillonite clay for calcium, and other goodies!
The Omega One Goldfish Pellet formula is at a close second, thanks to its emphasis on whole fish and shrimp meal and enriching vitamin additives. The slow sinking formulation and binding agents prevent cloudy waters and add to its appeal as a goldfish food!
Frequently Asked Questions
Should Goldfish Be Fed Every Day?
For the most part. Skipping a meal here and there is not an issue and can actually be healthy – not just for goldfish but people too. A skipped meal helps clear the intestinal tract and ensures stored fat has a chance to burn off. Food does not need to be constantly digesting in their bodies.
How Often Should I Feed my Goldfish?
Goldfish of all ages should be fed at least once per day. In fact, twice per day is a better minimum, and young goldfish, which are growing quickly and continually, should be fed up to three times per day!
Just make sure to remove any uneaten food if it looks like your goldfish is full. Rotting food is the main cause of cloudy water and ammonia spikes, which can lead to disease or death in your goldfish tank.
How Long Can Goldfish Survive Without Food?
It is best not to try and test this out for oneself. Experts suggest two weeks is the maximum before starvation begins to become debilitating. Stress sets in roughly after a week.
How Do I Feed My Goldfish When I'm Away Or On Vacation?
If you need to take a 2 or 3 day weekend trip, you need not worry about your fish starving to death; they will be eager to eat when you get back, but no harm will be done. But you can always leave a weekend vacation block or schedule a sitter if you feel bad for them!
Automatic fish feeders are popular purchases leading up to a longer trip. Once calibrated and set up, they can dispense pellets or flakes as many times per day as you wish in just the right amounts!
Can Goldfish Eat Betta or Tropical Fish Food?
Whether or not a goldfish can eat betta or tropical fish food depends mostly on the formulation in question. I would not feed predatory cichlid pellets to a goldfish since they are too rich in protein. But standard community tank flakes and pellets should be just fine. Bettas are also carnivorous so take a look at the ingredients label using the information in this guide to determine whether it's formulated right for your goldfish!
Related Reading: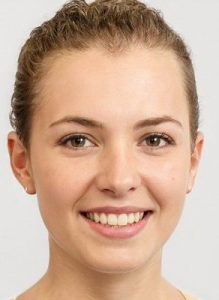 Latest posts by Kelly Stanley
(see all)